Black pudding with a poached egg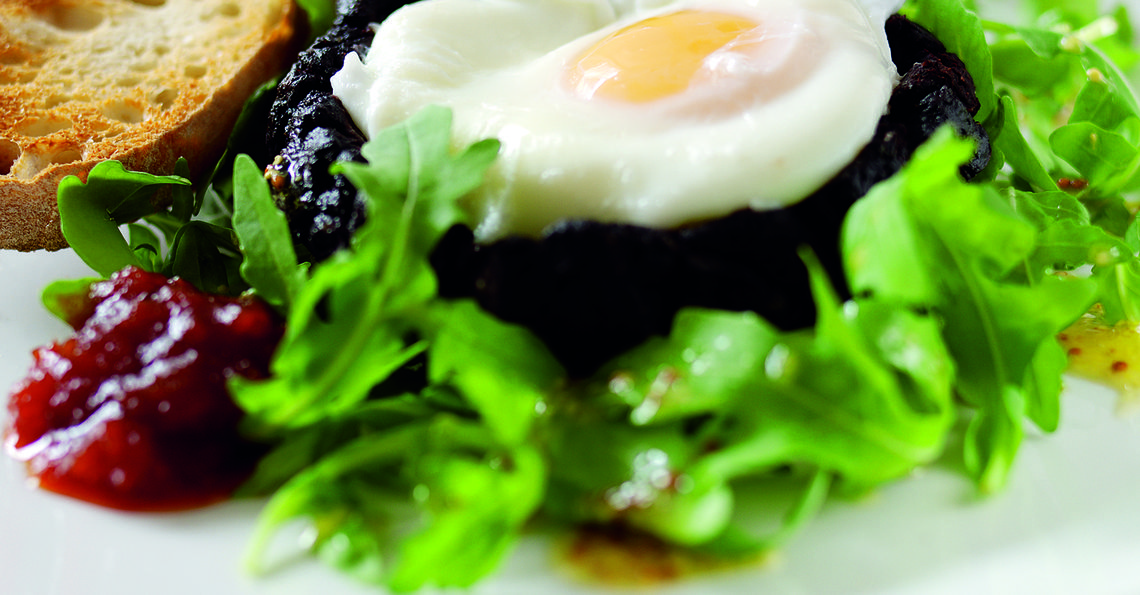 Serves: 2
Prep: 2 mins
Cook: 8 mins
Looking for something different to start off your day? Why not try creating your own version of the breakfast classic with this delicious black pudding recipe.  Perfect with poached eggs, rocket leaves and wholegrain mustard, this is a brilliant way to start your day.
Ingredients
2 large British Lion eggs
2 (2cm thick) slices black pudding
50g/2oz rocket leaves
tomato chutney and bread to serve
For the mustard vinaigrette:
5ml/1tsp whole grain mustard
45ml/3tbsp olive oil
30ml/2tbsp lemon juice
salt and freshly ground black pepper
Method
Preheat the oven to 200C/Fan 180C/ Gas Mark 6. Place the black pudding on the work surface and use a rolling pin to roll it out until it is about 00cm in diameter. Use the pudding to line 2 holes of a 4-hole Yorksire pudding tin., pressing it into the base so it forms a good cup shape. Bake for 8-10mins or until cooked.
Fill a frying pan with water and bring to the boil. Reduce the heat to a gentle simmer, gently crack in the two eggs and poach for 3mins according to your taste. Remove from the heat.
Divide the rocket leaves between two plates, place the black pudding in the centre, then using a slotted spoon lift the poached eggs from the water and place in the black pudding. Drizzle over the dressing and serve immediately with tomato chutney and bread.
Click on the stars to rate this recipe: