Eggs Benedict recipe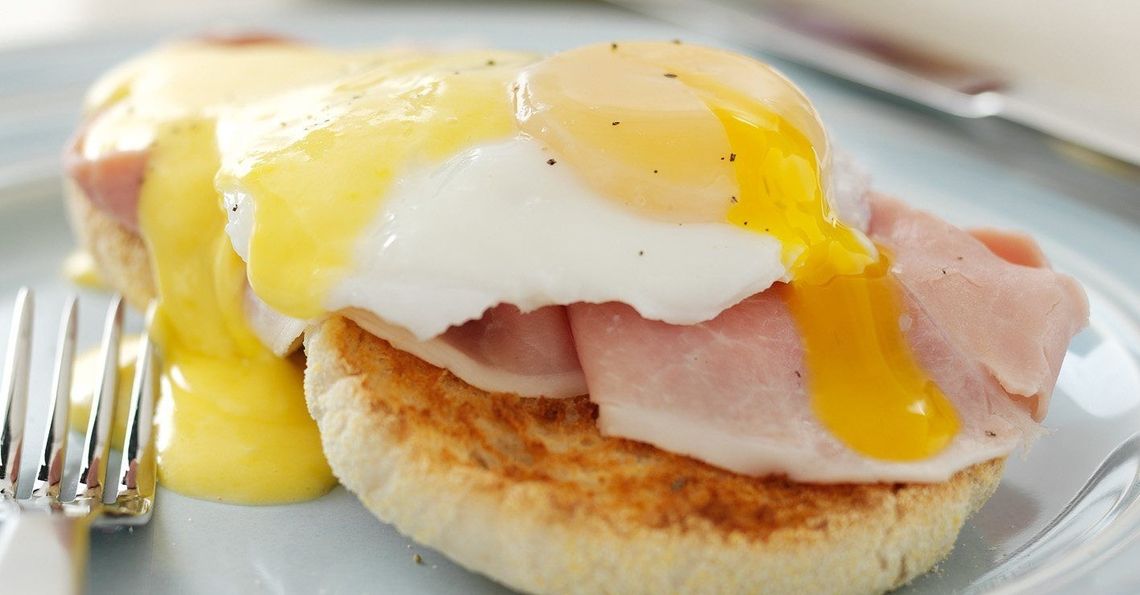 Serves: 2
Prep: 10 mins
Cook: 5 mins
A classic breakfast favourite, Eggs Benedict is one of the most popular egg recipes. If you're feeling extra crafty, make hollandaise sauce at home! It's guaranteed this delicious eggs benedict is even more perfect with homemade sauce. It's both vegetarian and healthy at the same time.
Ingredients
For the sauce:
3 tbsp white wine vinegar
75g/3oz butter, melted
2 large British Lion egg yolks
salt and freshly ground black pepper
To complete:
2 large British Lion eggs
2 slices ham
toasted muffins to serve
Method
For the sauce: place the vinegar in a small pan and simmer until reduced by half. Place the egg yolks and vinegar in a small heatproof bowl and set it over a pan of gently simmering water. Whisk the yolks until the mixture is thick enough to leave a ribbon trail when the whisk is lifted. Gradually whisk in the butter until the mixture has thickened. Season to taste. Remove the bowl from the heat and set aside.
To complete, pour 5cm/2in water in a large frying pan and bring to a gentle simmer. Carefully crack the eggs into the water and simmer for 2-3 mins or until the eggs are poached to your liking.
Place 2 pieces of toasted muffins on each plate, top with the slices of ham, then place a poached egg on top. Spoon a little of the sauce over each and serve.
Cooks tips
If time is an issue, try using a jar of ready-made Hollandaise sauce for an easy Eggs Benedict recipe.
Click on the stars to rate this recipe:
What is Eggs Benedict?
The popular story is that Eggs Benedict was first served up in 1894 at the Waldorf Hotel in New York. It's said that a retired stock-broker was looking for some breakfast, but not seeing anything he fancied, he made a special request. His meal became iconic - buttered English muffin with poached eggs, sliced ham and hollandaise sauce. The hotel chefs put the dish on the menu and the rest is history.
The recipe is so famous that breakfast and brunch enthusiasts celebrate it every year. April 16th is Eggs Benedict day!
Poached eggs cooking tips
The eggs in Eggs Benedict are poached. Poaching does take a little bit of know-how but we have lots of helpful tips. Including:
If poaching in a saucepan, the water should be simmering, not boiling. Look for a simmer of about one or two bubbles reaching the water's surface every second.
A touch of vinegar in the water can help help the egg whites to cook faster.
Timings: Three minutes for a soft egg and up to 5 minutes for a firm or hard egg.
A silicon poaching cup in the saucepan can make the process easier, as they float on top of the simmering water.
For more tips see our poached eggs section.
Try these ingredients
The open sandwich of muffins can be topped by many different ingredients. Bacon and ham are popular. Sausages can be a delicious alternative. Our Italian recipe uses pesto, sliced tomatoes and ham. Our New York Eggs Benedict recipe replaces the meat with potatoes and smoked salmon. Red pepper, tomato paste and chorizo adorn Spanish Eggs Benedict.
More Eggs Benedict recipes