Eggs Florentine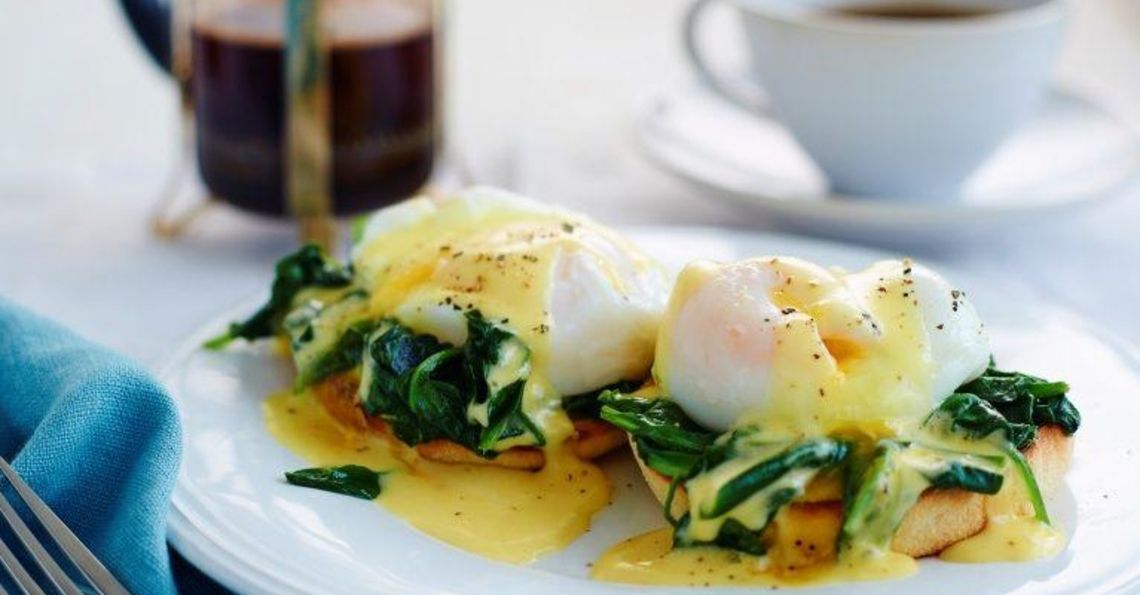 Serves: 2
Prep: 5 mins
Cook: 20 mins
Perfect for any time of day, Eggs Florentine are a deceptively simple and delicious meal of eggs traditionally served on fluffy muffins and topped with buttery hollandaise sauce on a bed of spinach.
Ready in 25 minutes, this is a must-try for fans of Eggs Benedict and anyone who enjoys simple but indulgent meals with fantastic flavour combinations.
Ingredients
For the Hollandaise sauce:
150g butter, cubed, at room temperature
3 British Lion egg yolks
1 1/2 tbsp lemon juice
To serve:
4 English muffins, halved
A knob of butter
1 clove of garlic, crushed
400g spinach
8 large British Lion eggs
Method
Melt 110g butter and pour into a small jug. Put the egg yolks in a large heatproof bowl, set over a pan of barely simmering water and whisk until thickened and lighter in colour.
Add lemon juice and whisk to combine into the mixture. Season to taste and then whisk in half the cubed butter. Continue whisking for 1-2 minutes until thickened, then add the remaining butter and whisk again. Slowly whisk in the melted butter. You should have a sauce the consistency of double cream.
Remove from the heat. Add extra lemon to taste, keep warm by setting the bowl inside a larger bowl of warm water.
Meanwhile melt butter in a large pan, add garlic and cook for a minute. Add the spinach and season, stir for 2 minutes until wilted.
Bring a large pan of water to the boil and add the eggs one at a time poaching for 2-3 minutes until cooked to your liking, drain well. You will need to do this in two batches.
Toast the muffins and top each half with spinach and a poached egg. Spoon on the warm hollandaise and serve.
Cooks tips
For recipes where the eggs remain raw or undercooked, like mayonnaise, always ensure that you use British Lion eggs which are produced to the highest standards of food safety.  Dishes that contain raw or  partially cooked eggs should be eaten immediately or, if not, stored in a fridge.
Click on the stars to rate this recipe: