Eggs Benedict with homemade hollandaise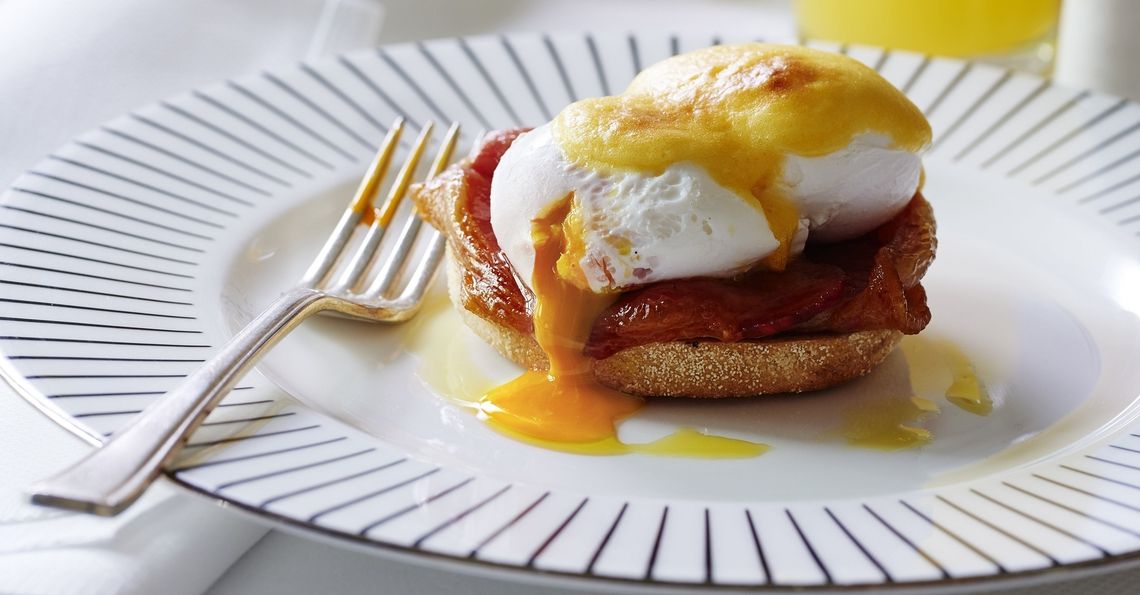 Serves: 1
Prep: 10 mins
Cook: 5 mins
A recipe for classic eggs Benedict with homemade hollandaise.
Ingredients
2 large British Lion eggs
1 English muffin
2 slices of back bacon
150g unsalted butter
2 large British Lion egg yolks
100ml white wine vinegar reduced to 25ml
Method
Fill a large deep pan with water and a splash of vinegar and bring to a rapid boil.
Crack each egg into an individual small bowl.
When the water comes to a boil, add in the eggs one at a time, letting them sink down to the bottom of the pan, they should form a teardrop shape.
Turn the pan down to a simmer and cook the eggs for three minutes for a runny yolk or five minutes for a harder yolk. Remove each egg with a slotted spoon and drain on a kitchen towel.
To make the hollandaise, put the butter into a microwaveable container and heat in the microwave until the solids separate from the fat and the butter is clarified, this should take around 1 minute.
Take the two egg yolks and put them in a round bottomed bowl along with the vinegar reduction and place over a pan of simmering water, whisking the eggs continuously until they begin to become thick and aerated.
Once the eggs are light, fluffy and stable enough to hold a figure of eight pattern when stirred with a spoon, they will be ready (this is known as ribbon stage).
Slowly drizzle the clarified butter into the egg yolk mix to emulsify, take care at this stage, if you go too fast the mixture will split.
To serve, cut the muffin in half and toast each side under the grill.
Place the bacon on an oven tray and grill to your liking
Place the bacon on top of the toasted muffin, and the eggs on top of the bacon. Spoon a generous amount of hollandaise over the eggs and return the finished Eggs Benedict, on an ovenproof plate, under the grill to slightly toast the hollandaise. Place the Eggs Benedict on a cool plate and serve.
Click on the stars to rate this recipe: