Soft poached eggs, sweetcorn pancake and crispy pancetta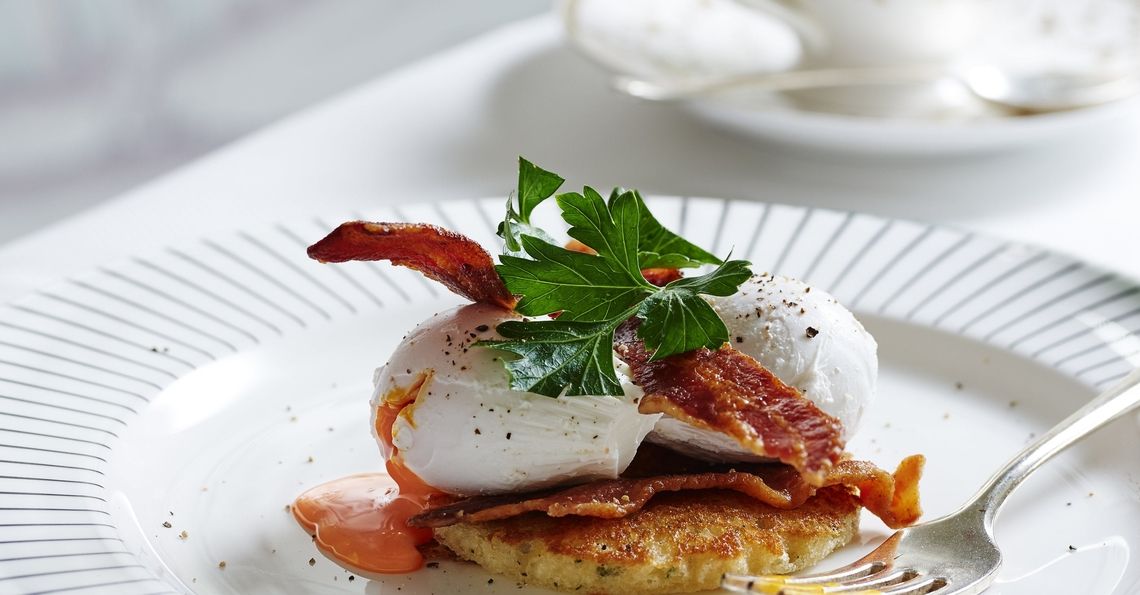 Serves: 2
Prep: 10 mins
Cook: 5 mins
A recipe for soft poached eggs served on a sweetcorn pancake and crispy pancetta.
Ingredients
5 large British Lion eggs
150g sweetcorn kernels
30g strong flour
A pinch of chopped chives
A pinch of salt and pepper
A drizzle of rapeseed oil for frying
300ml vinegar
6 slices of thick cut pancetta
Method
To make the sweetcorn pancake, mix the sweetcorn, egg, flour, salt, pepper and chives together in a bowl and blend until smooth with a hand blender.
Gently heat a non-stick pan, add a little rapeseed oil, and spoon in the pancake batter, one tablespoon at a time, to make a small pancake.
Gently cook the pancake for approximately one minute each side until fully cooked through and golden brown. Place the pancake to one side and repeat to make a second one.
To poach the eggs, fill a large deep pan with water and a splash of vinegar and bring to a rapid boil.
Crack each egg into an individual small bowl.
When the water comes to a boil, add in the eggs one at a time, letting them sink down to the bottom of the pan, they should form a teardrop shape.
Turn the pan down to a simmer and cook the eggs for three minutes for a runny yolk or five minutes for a harder yolk. Remove each egg with a slotted spoon and drain on a kitchen towel.
To cook the pancetta, place the pancetta slices under a hot grill for x minutes or until crisped to your liking.
To serve, place one pancake on each plate, top with a poached egg and three slices of crispy pancetta.
Click on the stars to rate this recipe: