Italian Eggs Benedict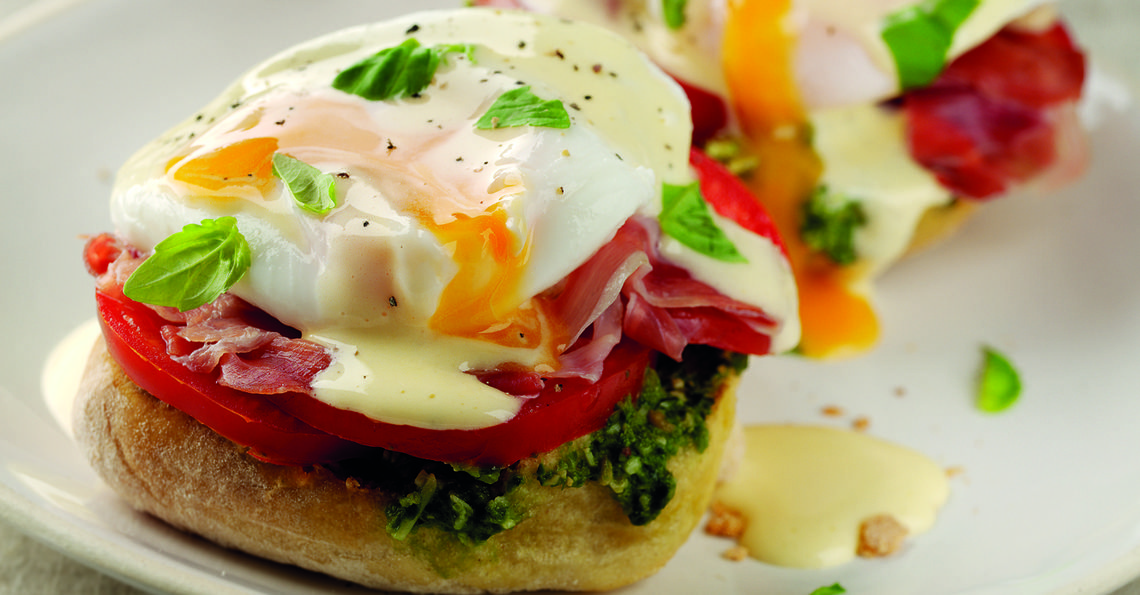 Serves: 2
Prep: 10 mins
Cook: 5 mins
Ingredients
#For the sauce
75g/3oz butter
1 tbsp white wine vinegar
2 large British Lion egg yolks
Salt and freshly ground black pepper
#To complete
2 ciabatta rolls
4 tsp pesto sauce
2 tomatoes, sliced
4 slices of prosciutto ham
4 large British Lion eggs
Basil leaves to serve
Method
1. First make the sauce: take a medium sized heatproof bowl that fits neatly over a medium pan. Fill the pan with water and bring it to the boil. Also fill a frying pan with water and a pinch of salt and put this on to boil.  Set the grill to high.
2. Melt the butter in a small pan and set aside to cool slightly. Place the egg yolks and vinegar in the bowl and whisk together with a balloon whisk until thick and creamy.
3. Remove the pan from the heat and place the bowl on a tea towel so it doesn't slip about. Now continue to whisk the egg yolks and gradually add the butter a few drops at a time. When its all added you should have a nice creamy thick sauce. Set the bowl to one side.
4. Now poach the eggs. Crack the eggs one at a time onto a saucer, then tip them into the frying pan of simmering water. Reduce the heat and set a kitchen time for  one of the following timings:
• 3 minutes for a completely runny egg yolk,
• 4 minutes for a slightly set yolk with a runny middle
• 5 minutes for a firm egg yolk.
5. Whilst the eggs poach, halve and toast the ciabatta under the hot grill. Remove when toasted, spread each with pesto and top with sliced tomatoes and ham. Place two halves on two plates.
6. To serve: use a slotted spoon to carefully lift the poached eggs from the pan allowing them to drain. Place a poached egg on top of the ham. Finally spoon a little hollandaise sauce over the eggs and garnish with the fresh basil leaves.
Click on the stars to rate this recipe: