Oven roasted tomato and rocket bagels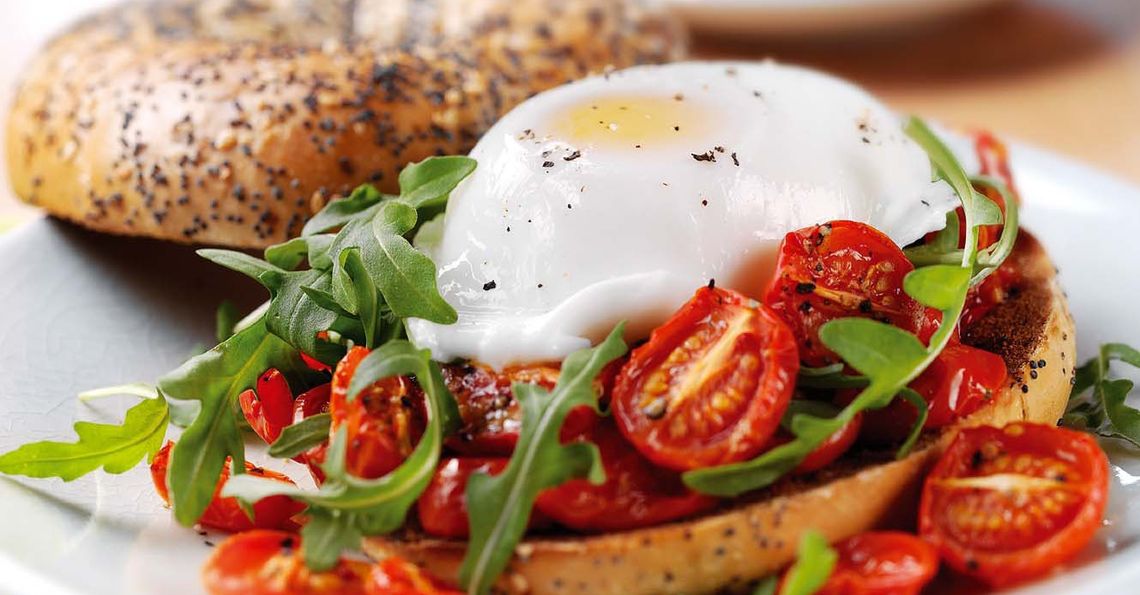 Serves: 4
Prep: 10 mins
Cook: 35 mins
Bagels with oven roasted tomato and rocket. Oven-roasting the cherry tomatoes gives them a wonderful concentrated flavour. You can do this the day before if you prefer, ready to serve for breakfast the next day.
Ingredients
450g/1lb cherry tomatoes, halved
1 tbsp olive oil
4 bagels, split
4 large British Lion eggs
handful of wild rocket leaves
salt and freshly ground black pepper
Method
Preheat the oven to 150C/Fan 130C/Gas Mark 2. Place the tomatoes cut side up on a baking tray, drizzle over the oil and season. Bake for 35-40mins or until the tomatoes have shrivelled and dried a little.
Fill a large frying pan with salted water and bring to the boil. Carefully crack the eggs into the simmering water then reduce the heat and cook for 3-5 mins depending how you like your eggs cooked. Lift the eggs from the water with a slotted spoon; drain on kitchen paper. Meanwhile, toast the bagels under a hot grill.
To serve, place the bagels on four plates, top each with the tomatoes, a handful of rocket and a poached egg. Serve straight away.
Nutritional information, per serving:

| Calories | Carbs | Protein | Fat | Saturates | Salt |
| --- | --- | --- | --- | --- | --- |
| 190 | 16.4g | 11.6g | 9.6g | 2.1g | 0.7g |
Click on the stars to rate this recipe: