Tom Daley's jalapeno corn bread with poached eggs, avocado and chipotle mayo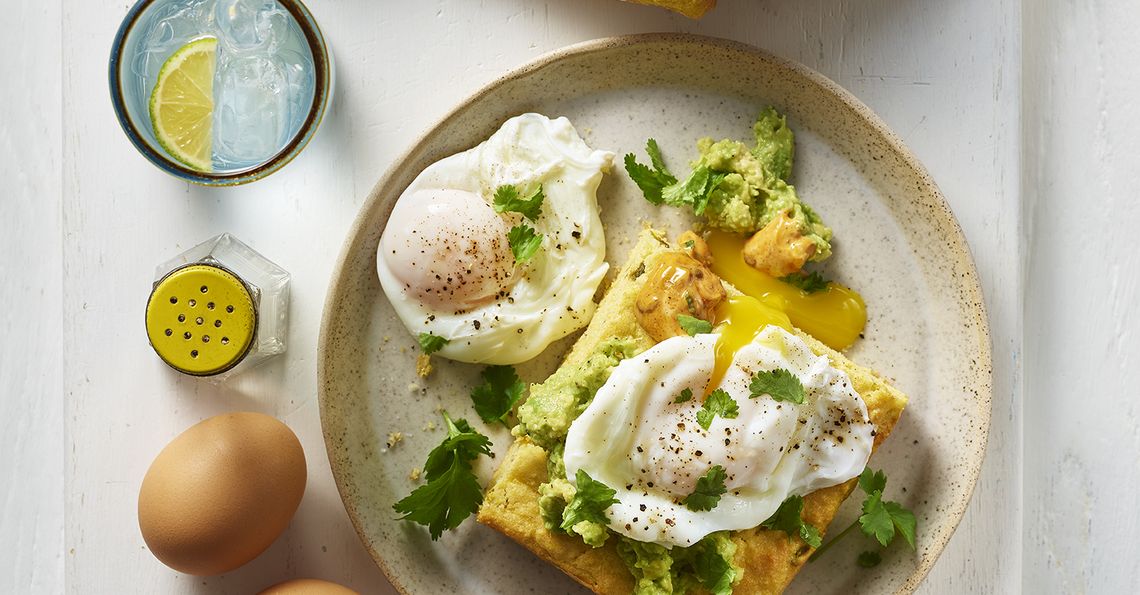 Serves: 4
Prep: 15 mins
Cook: 20 mins
Nothing beats a super moist, buttery homemade cornbread with a fluffy centre and this recipe is just that. Top with poached eggs for a great source of protein and chipotle mayo for an extra kick and enjoy!
Ingredients
125g plain flour
140g polenta
1/2 tsp bicarbonate of soda
1 1/2 tsp baking powder
1/2 tsp fine sea salt
175ml buttermilk
1 large British Lion egg
60g melted unsalted butter
50g chopped jarred jalapeños, rinsed and patted dry
To serve:
8 medium British Lion eggs
2 avocados, peeled and de-stoned
1/2 lime
60g mayonnaise
1/2-1 tbsp chipotle paste (start with less and add more to taste)
1 small handful coriander, roughly chopped
Method
Preheat the oven to 220C/200C Fan/Gas Mark 7. Line a 20cm square baking dish with parchment paper.

Combine the flour, polenta, bicarbonate of soda, baking powder and sea salt in a medium mixing bowl. In a jug, whisk together the buttermilk, egg, melted butter and 60ml water. Add the wet ingredients to the dry ingredients along with the jalapeños and stir to mix until just combined.

Pour the mixture into the prepared tin and bake for 20 minutes, until pale golden and a skewer inserted into the centre comes out clean.

While the cornbread is baking, poach the eggs. Bring a large pan of water to just below a simmer. Stir the water to create a whirlpool effect. Crack an egg into a small bowl, and as the 'whirlpool' is dying down, carefully drop the egg into the water. Leave to poach for about 3 minutes, until the white is set and the yolk is still runny. Then remove with a slotted spoon. Set aside on a plate lined with kitchen paper to drain. Repeat this for all the eggs.

Mash the avocado with the lime in a small bowl and season to taste. Mix the mayonnaise with the chipotle paste and

most of the coriander

in a small bowl.

Cut the cornbread into 4 squares and divide between 4 plates. Top each portion with two poached eggs and season lightly. Serve alongside the mashed avocado and chipotle mayonnaise and

the remaining

coriander.
Click on the stars to rate this recipe: