Sausage eggs benedict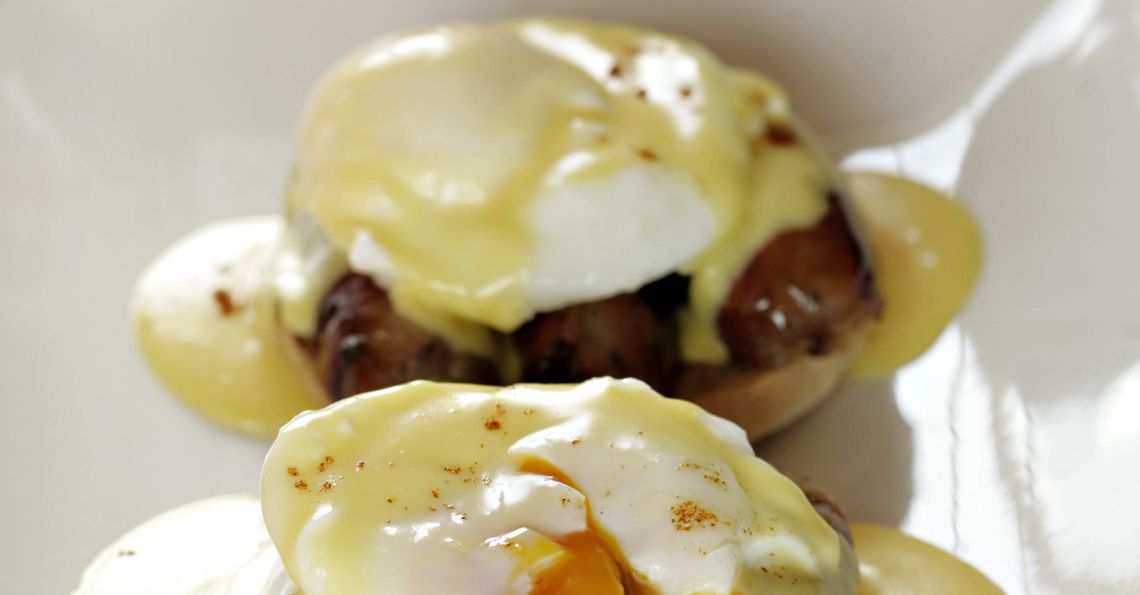 Serves: 4
Prep: 25 mins
Cook: 20 mins
For British Egg Week 2011.
Ingredients
8 good quality pork sausages
8 large British Lion eggs
1 tsp white wine vinegar
4 English muffins
softened butter
For the hollandaise:
4 large British Lion egg yolks
2 tbsp lemon juice
250g unsalted butter, cut into small dice and chilled
cayenne pepper
sea salt & black pepper (optional)
Method
Preheat the grill and first make the hollandaise sauce. Place the egg yolks and lemon juice in a fairly large bowl and season. Whisk all the ingredients until they have blended together. Place over a pan of just simmering water, making sure that the bowl is not in contact with the water. Whisk in the butter, a few cubes at a time, until the sauce begins to thicken. Continue adding the butter, whisking all the time and adding a splash of water if the hollandaise looks like it is becoming too thick. If the sauce begins to separate, remove from the heat immediately and add a teaspoon of cold water to the mixture.
Once all of the butter has been incorporated season to taste with sea salt and black pepper, if required, and lemon juice. Remove from the heat and keep the hollandaise warm.
Next, prepare the eggs and sausages. Preheat the grill to a moderate heat and grill the sausages for 10 – 15 minutes. At the same time, poach the eggs in a large saucepan of barely simmering water to which you have added the white wine vinegar. You will have to do this in two batches.
When the eggs and sausages are almost ready, cut the muffins in half and place them in the toaster or under the grill. When the muffins have been lightly toasted, butter them generously and place in the middle of a warmed plate.
Remove the sausages from the grill and place on top of each half muffin. Place a poached egg on top of the sausage and finally spoon the warmed hollandaise sauce over the egg. Sprinkle with cayenne pepper and serve immediately.
Click on the stars to rate this recipe: