Cheat's kedgeree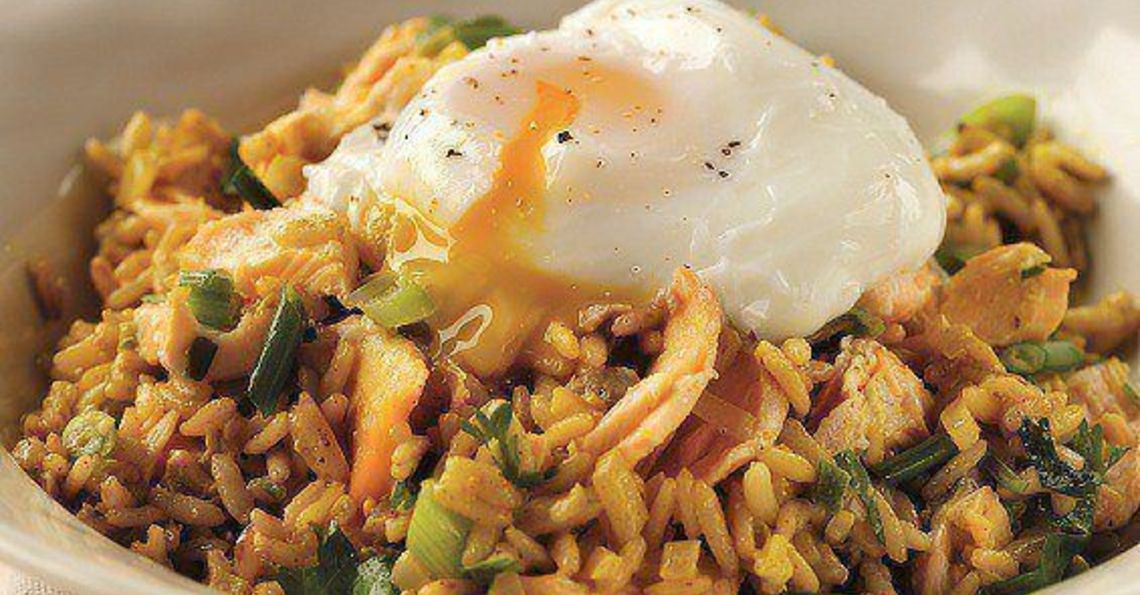 Serves: 2
Prep: 10 mins
Cook: 15 mins
A fresh and quick version of this classic egg recipe.
Ingredients
1 skinless salmon fillet
1 onion, finely diced
2 garlic cloves, crushed
Small piece ginger, peeled and grated
1 tsp garam masala
½ tsp mustard seeds
½ tsp turmeric
1 green chilli, deseeded and finely chopped
1 pack (250g) microwave wholegrain rice, cooked
3 spring onions, finely sliced
2 tbsp fresh coriander, chopped
2 large British Lion eggs
2 tbsp white wine vinegar
1 lemon, quartered to serve
Salt and pepper
Method
Add a splash of oil into a non-stick pan and cook the salmon for 4-5 minutes over a medium to high heat until nearly cooked through. Flake the salmon.
In a large pan, fry the onion, garlic and ginger in some olive oil for 5 minutes until soft. Add the spices and chilli and cook for a further minute. Add the rice and stir through, making sure the rice is well coated. Cook for 3-4 minutes, adding a splash of water if necessary.
Add the salmon, spring onion and coriander to the rice and stir. Season with salt and pepper and squeeze over the lemon juice.
In a deep pan, bring water up to a rolling boil, add the vinegar and crack in the eggs. Leave to cook for 4-5 mins, 4 for a runny yolk. Remove from the water and drain any excess water on some kitchen paper.
Divide the kedgeree between two warm plates. Top each with the poached egg and serve with a lemon wedge.
Click on the stars to rate this recipe: