New York Eggs Benedict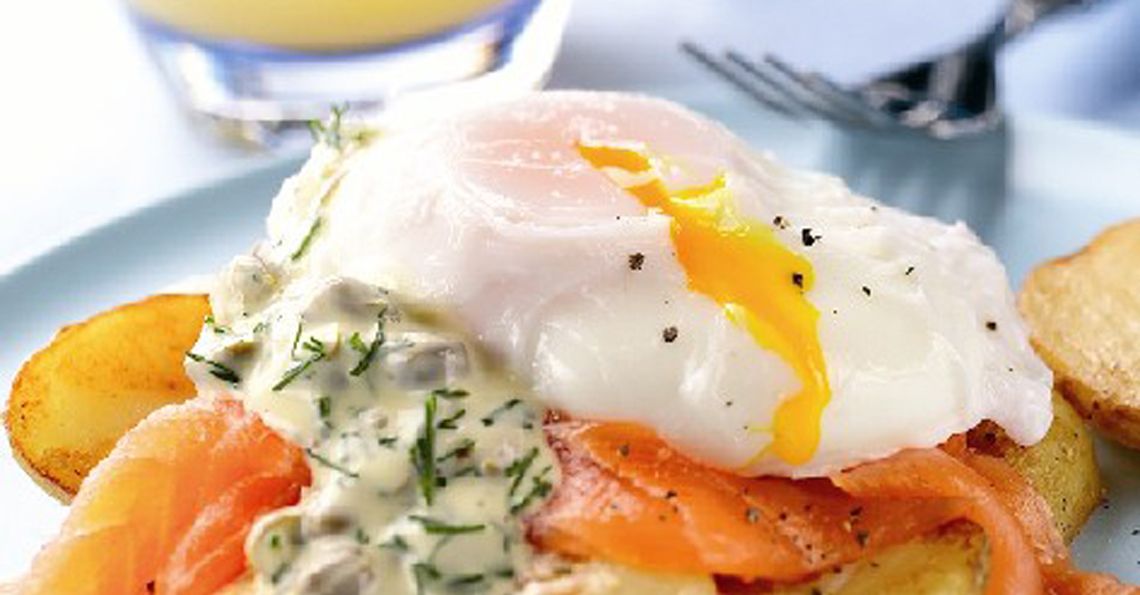 Serves: 4
Prep: 5 mins
Cook: 10 mins
This is a quick and easy version of Eggs Benedict, which contains only 284 calories per portion.
Ingredients
450g/1lb baby new potatoes, halved
3 tbsp vegetable oil
a dash of vinegar
4 large British Lion eggs
175g/6oz smoked salmon
chives to garnish
For the Hollandaise:
1 large egg yolk
½ dessert spoon of lemon juice
½ dessert spoon of white wine vinegar
2 oz (55g) butter
Salt and freshly milled black pepper
Method
Boil the potatoes in salted water for 5 mins, then drain. Heat the oil in a large frying pan and sauté the potatoes for 8-10 mins, stirring until golden brown and crisp. Keep warm.
Make the hollandaise (instructions below)
Fill a large frying pan with salted water, add the vinegar and bring to the boil. Carefully crack the eggs into the simmering water then reduce the heat and cook for 3-5 mins depending how you like your eggs cooked. Lift the eggs from the water with a slotted spoon; drain on kitchen paper.
To serve, divide the potatoes between four warm plates, top with folds of smoked salmon, then place a poached egg on top of each with a dollop of the hollandaise. Scatter over chives and serve.
For the Hollandaise:
Begin by placing the egg yolk in a small bowl and season them with a pinch of salt and pepper.
Place the egg yolk in the food processor or blender and blend them thoroughly for about 1 minute.
Heat the lemon juice and white wine vinegar in a small saucepan until the mixture starts to bubble and simmer.
Switch the processor or blender on again and pour the hot liquid onto the egg yolk in a slow and steady stream. After this, switch the processor or blender off.
Using the same saucepan, melt the butter over a gentle heat, being careful not to let it brown. When the butter is foaming, switch the processor or blender on once more and pour in the butter in a thin, slow, steady trickle: the slower you add it the better.
When all the butter has been incorporated, wipe around the sides of the processor bowl or blender with a spatula to incorporate all the sauce, then give the sauce one more quick burst and you should end up with a smooth, thick sauce.
Click on the stars to rate this recipe: