Boiled egg chicken salad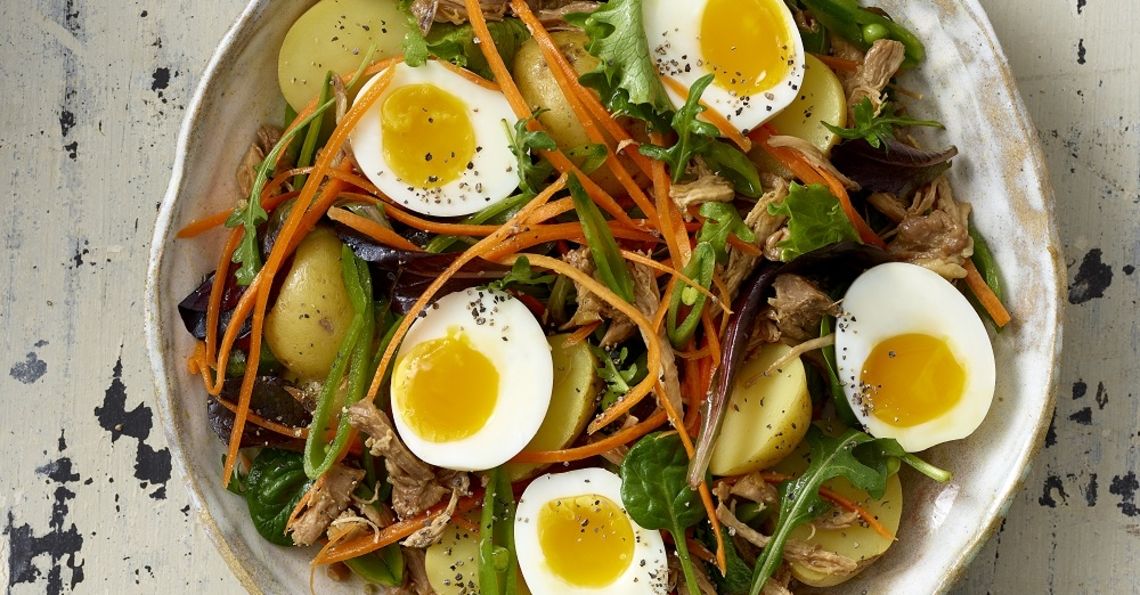 Serves: 4
Prep: 15 mins
Cook: 30 mins
Perfect sharing lunch dish for you and your friends. Sweet and sour chicken takes the good old egg salad to another level of deliciousness.
Ingredients
4 medium British Lion eggs
2 tbsp soy sauce
1 tbsp maple syrup
1 tbsp rice wine vinegar
2 garlic cloves, peeled and finely chopped
5cm ginger, peeled and finely chopped
6 chicken thighs, skinless
300g new potatoes, halved
1 tsp sesame oil
300ml chicken stock
50g salad leaves
50g sugar snaps, trimmed and sliced
1 small carrot, peeled and julienned
Method
1.    Prepare the marinade. In a mixing bowl, combine the soy sauce, maple syrup, rice wine vinegar, chopped garlic and ginger. Add the chicken thighs and leave aside for couple of minutes. 
2.    Meanwhile, cook the potatoes. Put the potatoes in a saucepan and pour in enough cold water to cover them all. Add a teaspoon of salt and bring the water to a boil over a high heat. Turn the heat down and simmer for 10-15 minutes, until the potatoes are soft.
3.    Heat up the sesame oil in a deep heavy based frying pan over a medium heat. Add the chicken (save the marinade for later) and flip each thigh once or twice, brown the meat on each side. Add the chicken stock and the marinade. Cover the pan with a lid, lower the heat and simmer for 15 minutes. 
4.    Whilst the chicken is cooking, boil the eggs. Bring a saucepan of water to a boil and carefully drop 4 medium British Lion eggs in. Boil for 5.5 minutes or 6, if the eggs are big. Transfer the eggs into a bowl and cover with ice cold water to stop the cooking process. Peel and halve each egg and leave aside. 
5.    Take the lid off and remove the chicken from the pan. Leave the sauce simmering and reducing with the lid off for about 10-15 minutes.
6.    Carefully pick the chicken meat from the bones and shred it with your hands or using two forks, if it's too hot.
7.    Add the shredded chicken back to the reduced sauce, stir and take off the heat once well combined. Taste and season with more soy sauce and vinegar, if needed. 
8.    Mix the salad leaves with the sugar snaps and julienned carrot. Place the salad on a big plate or platter. Arrange the potatoes and chicken over the top of the salad and finally add the eggs.
 
Cooks tips
Potatoes, as well as the chicken, can be cooked in advance and just slightly warmed up before assembling. It's a salad so don't worry about serving it hot!
Click on the stars to rate this recipe: