Breakfast tacos with scrambled eggs, beef mince and tomato salsa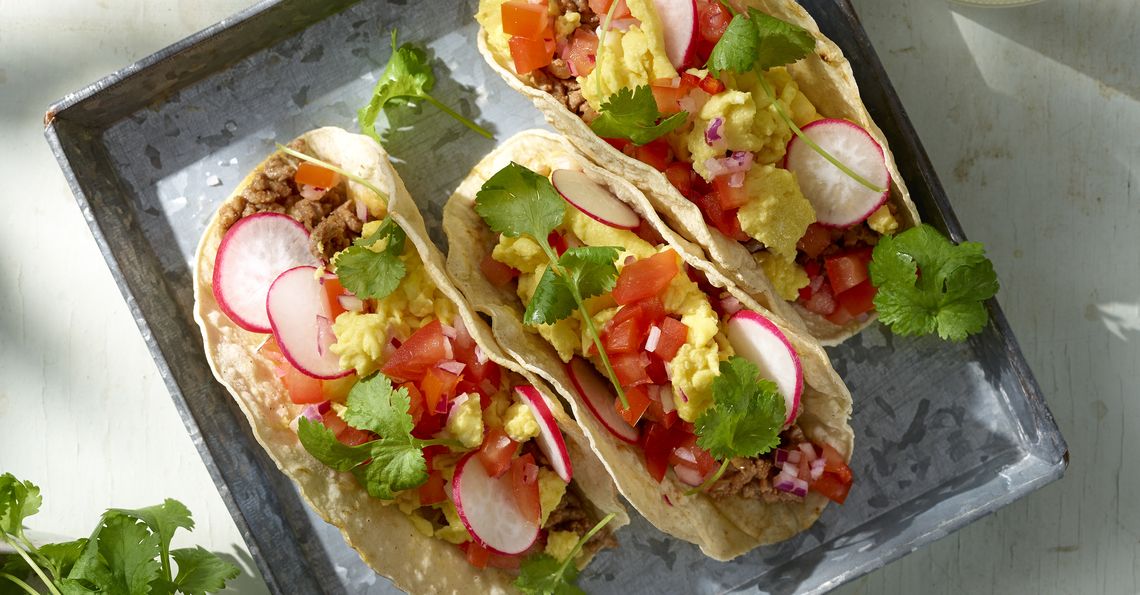 Serves: 2
Prep: 15 mins
Cook: 10 mins
Ingredients
300g beef mince
1 garlic clove, crushed and chopped
1/2 brown onion, finely diced
2 tbsp tomato puree
1 tbsp rapeseed / sunflower oil
1/2 tsp chilli powder
4 large British Lion eggs
1 knob of butter
10 cherry tomatoes, chopped
1/2 red onion, finely diced
1/2 bird's eye chilli, de-seeded, finely chopped
1 tbsp olive oil
1/2 lime, juiced
2 springs of coriander
2 radishes sliced
Method
     1.Heat the oil on a medium size frying pan. On a medium heat fry onion and garlic for about a minute – until the onion turns shiny and transparent. 

2.Add the mince and keep stirring until browned and cooked. 

3.Season with salt, add the tomato puree and the chilli powder. Stir again until all of the ingredients are combined and leave for another 3 minutes with a lid on. Transfer into a bowl and then use the same pan for scrambled eggs.

4.Beat the eggs together. Heat the same frying pan and over a low heat melt the butter. Add the eggs and cook until desired consistency, constantly stirring with spatula.

5.Make salsa by simply mixing all the ingredients together. 

6.Heat up a small frying pan and toast your tortillas one by one, until soft and slightly browned on both sides.

7.Assemble your tacos – spoon over the mince, eggs, salsa and decorate with springs of coriander and radish slices.
 
Nutritional information, per serving:

| Calories | Carbs | Protein | Fat | Saturates | Salt |
| --- | --- | --- | --- | --- | --- |
| 934 | 77.3g | 53.1g | 48.3g | 15.6g | 1.7g |
Click on the stars to rate this recipe: