Bubble and Squeak Rosti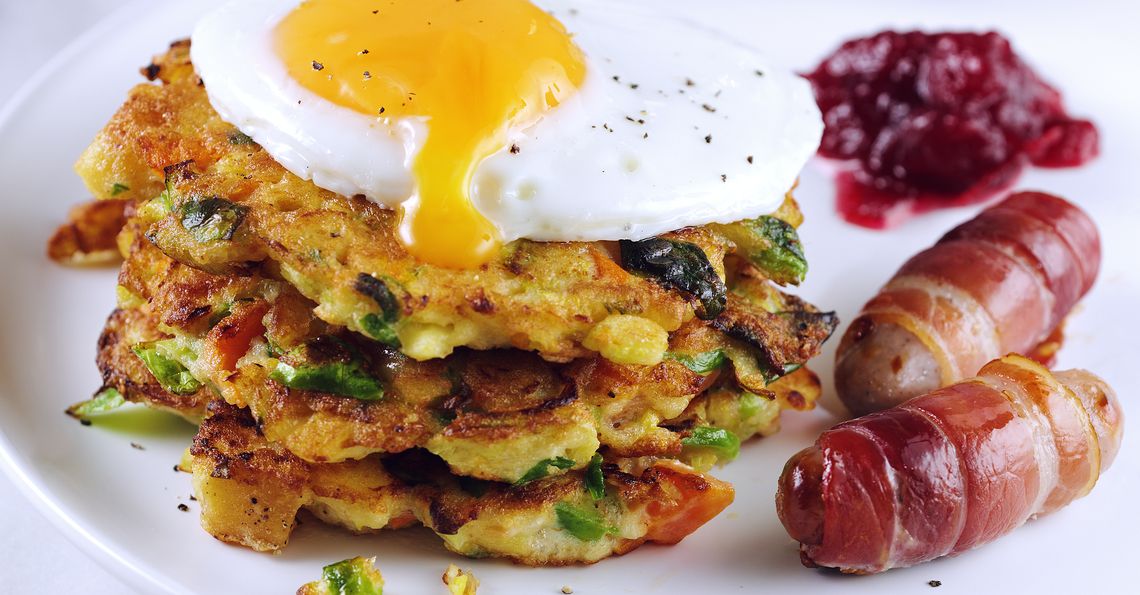 Serves: 4
Prep: 10 mins
Cook: 10 mins
Ingredients
600g mixed left over veg (including roast potatoes, parsnip, spouts and carrots)
8 large British Lion eggs
A pinch of salt and freshly ground black pepper
1 tsp chopped fresh rosemary (optional)
A little oil for frying
Pigs in blankets and cranberry sauce to serve
Method
Place all the vegetables on a large chopping board and finely chop so everything is no bigger than 1cm cubed.
Crack 4 British Lion eggs into a large bowl, add seasoning and the rosemary if using, then add the chopped vegetables and stir well.
Heat a little oil in a large non-stick frying pan, add two or three heaped spoonfuls of the mixture to the pan and cook for 2-3minutes per side until golden brown.
Repeat with the remaining mixture to make a total of about 12. Keep warm in a low-heated oven.
Wipe out the frying pan with kitchen paper, add a little more oil to the pan and fry the remaining eggs until cooked to your liking.
Serve 3 rostis per person topped with an egg, alongside pigs in blankets and cranberry sauce.
 
Click on the stars to rate this recipe: