Chicken and mushroom crêpes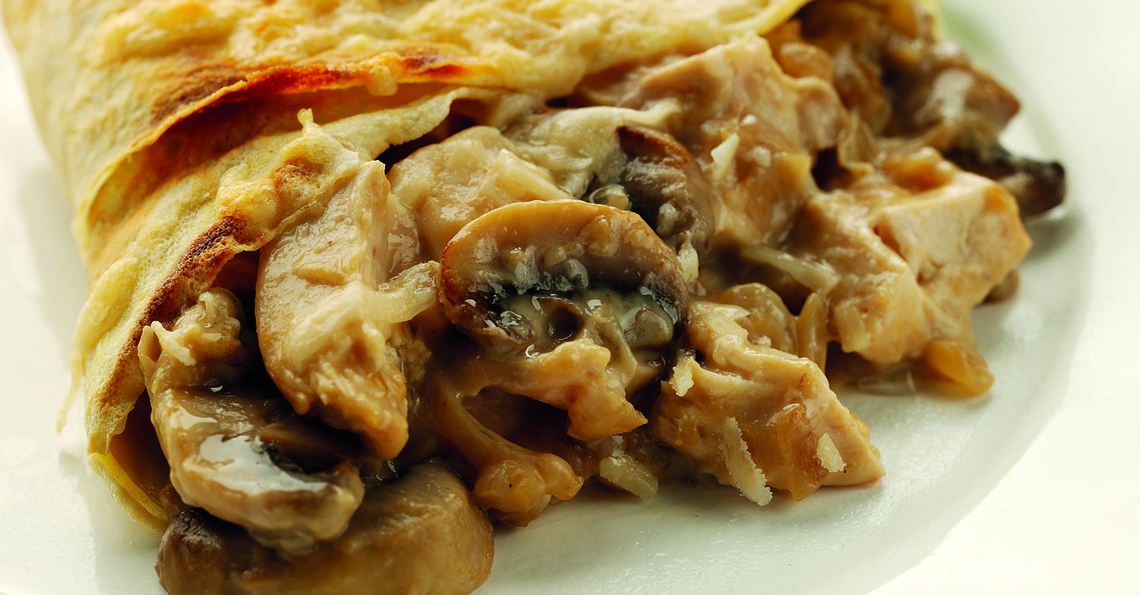 Serves: 4
Prep: 15 mins
Cook: 20 mins
Ingredients
For the pancakes:
40g/1½ oz. plain flour
A pinch of salt
1 large British Lion egg
100ml/4 fl oz. milk
A little oil for frying
For the filling:
1 tbsp. vegetable oil
1 small onion, chopped
175g/6oz mushrooms, sliced
30ml/2tbsp plain flour
200ml/7floz whole milk
30ml/2tbsp dry Sherry (optional)
Pinch of dried tarragon (optional)
225g/8oz cooked chicken breast, skinned and diced
Salt and ground black pepper
15g/1/2oz freshly grated Parmesan cheese
Method
Place the flour, salt and eggs in a large bowl. Add half of the milk and whisk well until the mixture is lump free. Add the remaining milk and whisk again until smooth. If you prefer, place all ingredients in a food processor and blend until smooth. Pour the batter into a jug.
Heat a 20cm/8in diameter non-stick frying pan until hot, drizzle a little oil over the centre and wipe around the pan with a piece of kitchen paper. Pour a little of the batter into the pan and immediately tilt the pan to spread the batter thinly and evenly over the base. Cook for 1-2 minutes or until the top is set and the base is golden.
Flip over the pancake and cook for a further 1-2 minutes or until the base is golden. Transfer to a plate, cover with foil and keep warm. Use the batter to make a further 3 pancakes in the same way.
Heat the oil in frying pan, add onion and fry for 3 minutes or until soft. Add the mushrooms, season well with salt and pepper and sauté for a further 5 minutes until the onions and mushrooms are golden.
Add the garlic and flour and cook for 30 seconds. Gradually add the milk, sherry and tarragon (if using) and cook, stirring until the sauce boils and thickens. Add the chicken and cook until piping hot.
Lay the warm pancakes on a board and divide the filling between them, spooning it onto one quarter, fold over the pancake to make a neat fan shape and place a baking tray.
Sprinkle over the Parmesan cheese. Pop under a hot grill and cook for 2 minutes until crisp and golden on top. Serve immediately with crisp green salad. 
Click on the stars to rate this recipe: