Tom Daley's Banana and Blueberry Pancakes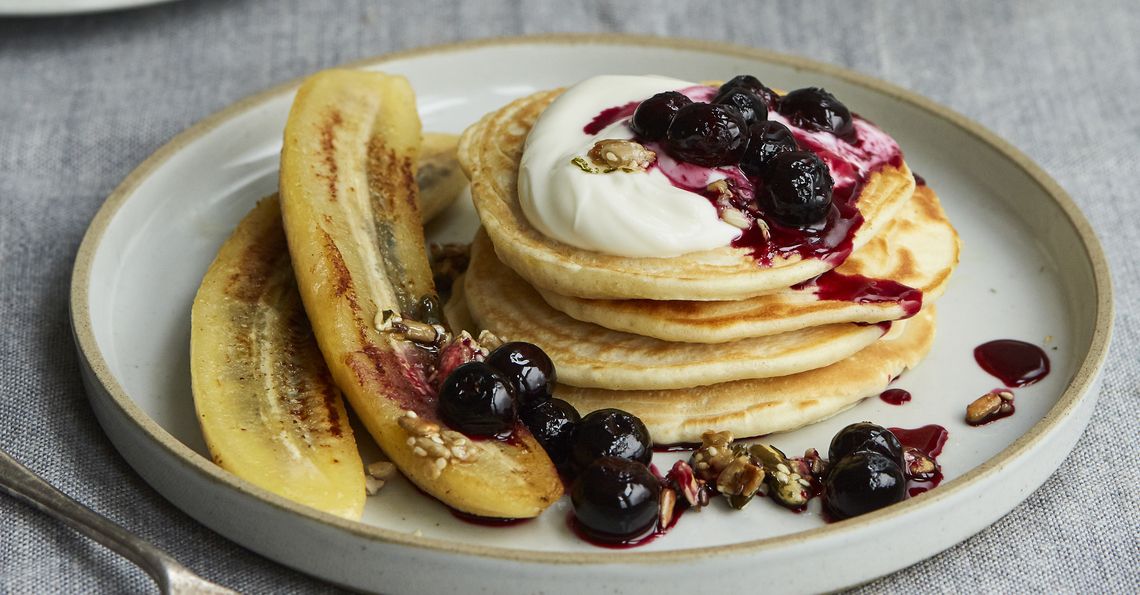 Serves: 4
Prep: 10 mins
Cook: 20 mins
Ingredients
2 tbsp mixed seeds
1 tbsp runny honey
240g plain flour
2 tsp baking powder
2 tbsp caster sugar
2 large British Lion eggs
220ml milk
Zest of a lemon
1/2 tbsp olive oil, plus extra for frying
1 tbsp butter
4 bananas, split lengthways
240g blueberries
Juice of a lemon
2 tsp runny honey plus extra to serve
Greek yoghurt, to serve.
Method
1. Heat a non-stick frying pan over a medium heat and toast the seeds until they start to pop. Add the honey and continue cooking for a minute or so until the honey has reduced and the seeds are browned. 

2. Pour onto a sheet of greaseproof paper and leave to cool. The seeds will crisp up as they cool. Clean the frying pan. 

3. Sift the flour and baking powder together in a bowl. Stir in the caster sugar. Then crack in the eggs and start whisking. Slowly pour in the milk and whisk until the batter is thick and smooth. 

4. Add the lemon zest and olive oil and whisk again until everything is incorporated. 

5. Melt a little olive oil in the frying pan over a medium heat and spoon the batter into 10cm pancakes.  Cook on one side until bubbles appear, then flip over and finish cooking on the other side. Repeat with the remaining batter until it is all used up. Keep the pancakes warm while you prepare the bananas and blueberries. 

6. Over a medium heat, melt the butter in the same frying pan (no need to clean it out) and add the bananas, cut side down. You may need to cook them in batches. Cook gently until the bananas are coloured on one side and beginning to soften then flip them over and finish off the other side. Remove from the pan and keep warm. 

7. Add the blueberries to the pan and cook gently for a couple of minutes. Add the lemon juice and runny honey and continue to cook until the blueberries begin to burst. This will take 1-2 minutes. 

8. Serve the pancakes warm, with the cooked bananas, the blueberries and cooking juice and some of the crunchy toasted seeds. Top with a little Greek yoghurt and an extra drizzle of runny honey if you like. 
Nutritional information, per serving:

| Calories | Carbs | Protein | Fat | Saturates | Salt |
| --- | --- | --- | --- | --- | --- |
| 170 | 31.0g | 5.0g | 4.1g | 1.4g | 0.2g |
For the Fat Free yoghurt:
*Calories    Protein (g)    Total Fat (g)    Saturates (g)    Carbs (g)    Salt (g)
 45.7             4                   0                     0                       7.4              0.1
Click on the stars to rate this recipe: