Spinach and dill pancakes with salmon and eggs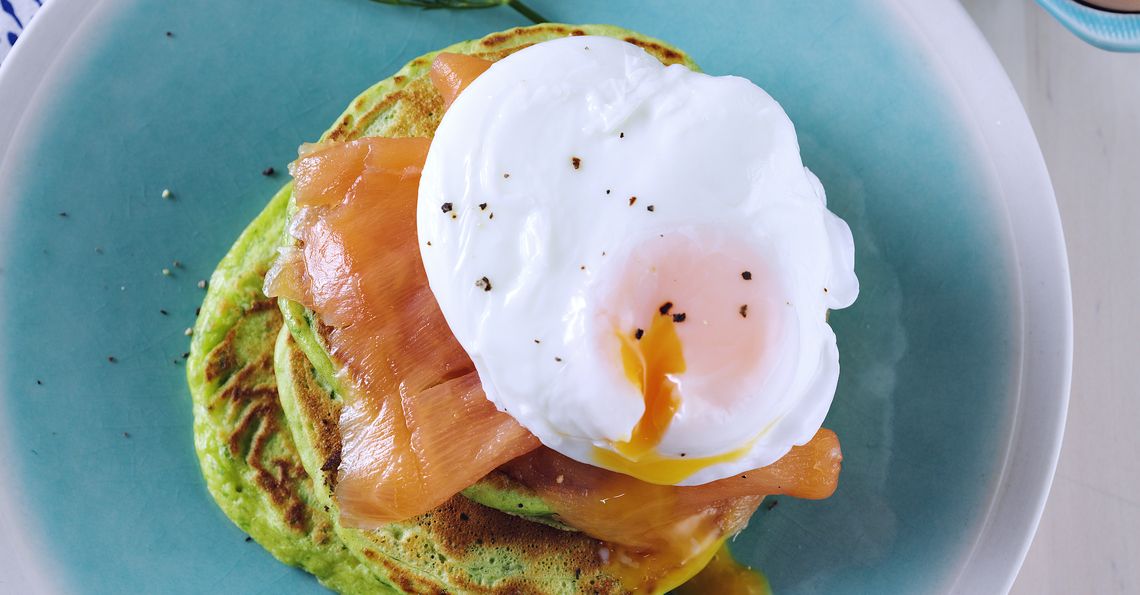 Serves: 4
Prep: 10 mins
Cook: 10 mins
Ingredients
50g chopped spinach leaves
3 tbsp snipped fresh dill
6 large British Lion eggs
100ml milk
150g self-raising flour
1 tsp caster sugar
A pinch of salt and freshly ground black pepper
A little oil for frying
50g smoked salmon slices
Dill sprigs to serve
Method
1. Place the spinach, dill, 2 eggs, milk, flour, sugar and seasoning in large bowl. Blend everything together to make a smooth batter - it will be thick like yogurt.
2. Heat a little oil in a non-stick frying pan and add 3 heaped spoonfuls of the mixture into the hot pan and wait until the top of the pancake begins to bubble, then turn it over and cook until both sides are golden. 
3. Repeat with the remaining batter, keeping the cooked pancakes warm.
4. Fill a frying pan with water and bring to the boil. Reduce the heat to a slow simmer. Gently crack in the 4 eggs and poach for 3 minutes or according to your taste. 
5. Remove from the heat and lift from the pan with a slotted spoon.
6. Stack the pancakes on 4 plates, top with folds of smoked salmon and the poached eggs. 
7. Serve with the lemon creme fraiche and lemon wedges.
 
Nutritional information, per serving:

| Calories | Carbs | Protein | Fat | Saturates | Salt |
| --- | --- | --- | --- | --- | --- |
| 300 | 30.8g | 19.1g | 12.2g | 8.4g | 1.4g |
Click on the stars to rate this recipe: