Chocolate chip pancakes with whipped cream and rum caramel sauce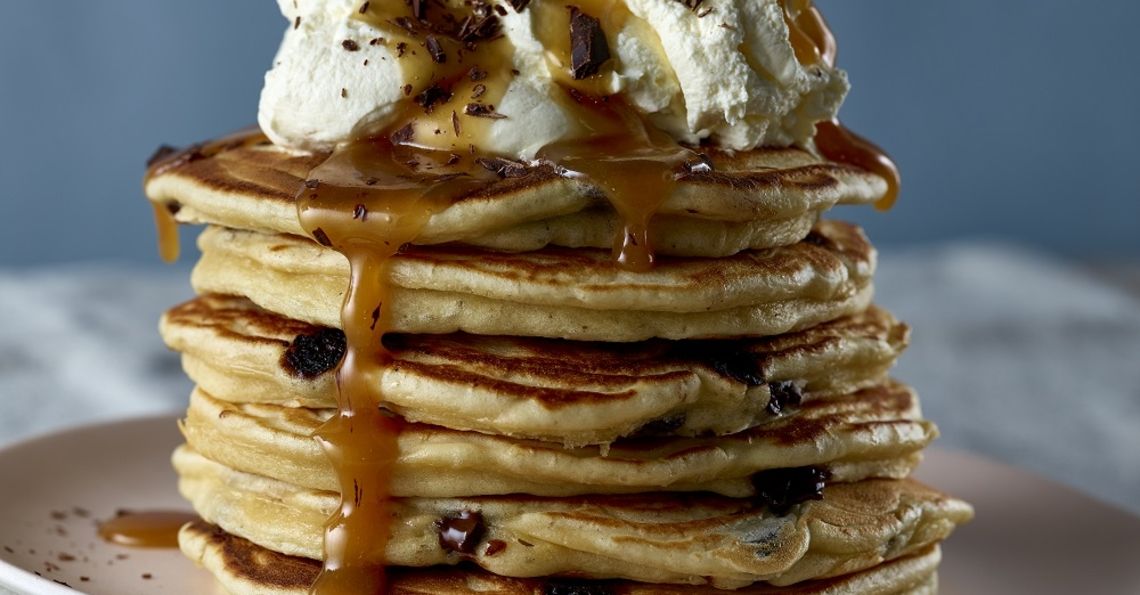 Serves: 1
Prep: 10 mins
Cook: 20 mins
The most indulgent pancakes you'll ever have. Bring comfort and luxury to your life!
Ingredients
2 medium British Lion eggs
130g self-raising flour
1 tbsp caster sugar
1 tsp baking powder
1 tbsp unsalted butter, melted and cooled
100ml whole milk
Pinch of salt
50g chocolate chips
Vegetable oil to fry
25g caster sugar
1/2 tbsp unsalted butter, softened
25g double cream
1 tbsp dark rum
Pinch of salt
25ml double cream
Method
1.    Start with making the pancake batter. In a medium size mixing bowl, combine all the dry ingredients - flour, sugar, baking powder and salt. 
2.    In a separate bowl mix together the butter, eggs and milk. Pour the wet ingredients over the dry gradually and whisk until the batter is smooth and there are no lumps of flour. Fold in the chocolate chips.
3.    Warm up a teaspoon of oil in a small frying pan over a medium heat. When the oil is hot pour 2 tablespoons of batter into the centre of the pan and shape with the back of the spoon into a round disc. 
4.    Cook for 2 minutes on first side, then flip and cook for another 2 minutes till the pancake is golden brown. Transfer onto a cooling rack and cook the rest of the mixture. 
5.    Whilst the pancakes are cooling down, make the sauce. Simply put all the ingredients (except the rum) into a small saucepan and bring to a boil over a low heat, stirring continuously. Simmer and stir for about 5 minutes, until the sauce is golden brown. Take the sauce off the heat and add the rum. Whisk or stir vigorously until the sauce is smooth again.
6.    Using a whisk, beat the cream to a soft peak consistency.
7.    To serve, stack the pancakes, top with the cream and pour the rum sauce over the stack.
Cooks tips
double the ingredients for the caramel rum sauce. Make a big batch and keep the leftovers in a jar for future breakfasts!
Nutritional information, per serving:

| Calories | Carbs | Protein | Fat | Saturates | Salt |
| --- | --- | --- | --- | --- | --- |
| 1588 | 171.5g | 32.9g | 81.7g | 52.9g | 3.5g |
Click on the stars to rate this recipe: