Thick pancakes with spiced apple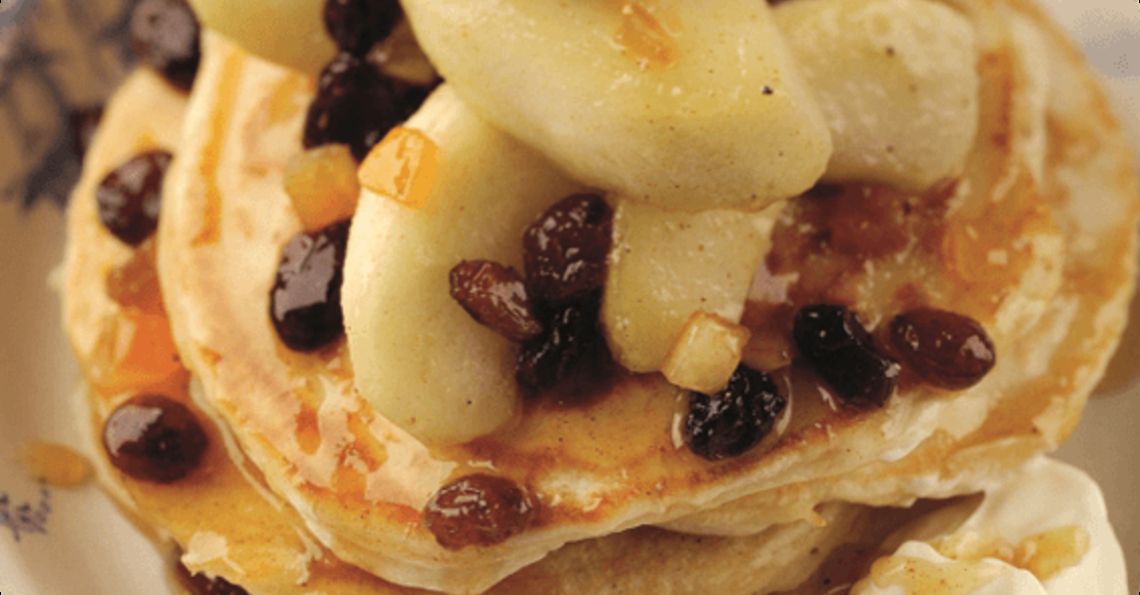 Serves: 4
Prep: 20 mins
Cook: 20 mins
Ingredients
Apple topping ingredients:
2 tbsp butter
3 Bramley apples, peeled and sliced
3 tbsp demerara sugar
1 tsp ground cinnamon
1 tsp mixed spice
3 tbsp sultanas
Pancake ingredients:
225 g plain flour
1 tbsp baking powder
1 tbsp caster sugar
pinch of salt
2 British Lion eggs, lightly beaten
300ml milk
2 tbsp butter, melted
oil, for frying
crème fraȋche, to serve
Method
For the pancakes: place all the ingredients apart from the oil into a bowl and whisk using an electric hand whisk until smooth.
Heat a little oil in a frying pan over a medium heat and pour in a ladleful of batter. Heat for 1-2 minutes on each side, or until puffed and golden brown. Repeat until you have used all the batter. 
For the spiced apple: melt the butter in a saucepan over a low-medium heat. Add the apples, sugar, cinnamon, mixed spice and sultanas. Cook gently for 8-10 minutes, stirring occasionally until the apples are soft but do not start to break down. Set aside to cool. 
To serve, stack the pancakes and top with a spoonful of apple and a dollop of crème fraȋche.
Click on the stars to rate this recipe: