Chorizo and potato breakfast tostadas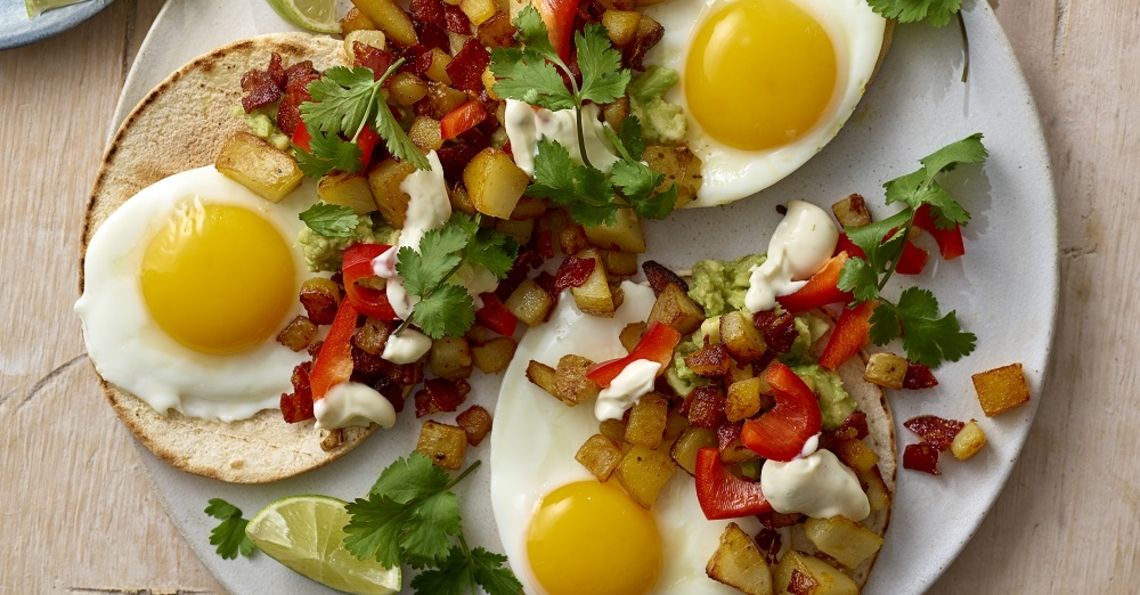 Serves: 4
Prep: 10 mins
Cook: 20 mins
Spanish meets Mexican. A fun brunch dish, excellent for big gatherings. Make all the toppings and involve your friends in assembling!
 
Ingredients
4 medium British Lion eggs
1 tbsp rapeseed oil
200g potatoes, diced
50ml water
50g chorizo, chopped
1 tbsp sunflower oil
4 small corn tortillas
2 limes, 1 juiced and zested and 1 cut into wedges
1 small garlic, peeled and minced
2 tbsp mayonnaise
1 avocado, peeled and diced
1 red pepper, seeds removed and diced
10g coriander, roughly chopped
Salt and pepper to taste
Method
1.    Heat up the oil in a medium size, heavy based frying pan over a medium heat. Add the potatoes and stir for 2 minutes, until browned. Add the water and a pinch of salt and cover the pan with a lid. 
2.    Cook for 5 minutes, stirring occasionally to prevent from burning the potatoes. Add the chorizo then lower the heat and stir for another 3-4 minutes, adding more water if you think the potatoes are still not cooked.
3.    In another frying pan heat up the sunflower oil over a medium heat. Crack the 4 British Lion eggs in and lower the heat. Cook slowly, until the egg whites set – for about 5 minutes. 
4.    Toast the tortillas in a toaster or on a hot, dry frying pan.
5.    Make the lime mayo by mixing the lime juice and zest with the minced garlic and mayonnaise.
6.    Assemble the tostadas, starting with placing the egg in the centre of each tortilla, then adding the remaining ingredients around the yolk. Serve with lime wedges and a seasoning of salt and pepper.
 
Cooks tips
Some tortillas can be really tough and chewy, even after toasting. Try deep frying them instead. This will guarantee a super crunch that you're looking for in a perfect tostada.
Nutritional information, per serving:

| Calories | Carbs | Protein | Fat | Saturates | Salt |
| --- | --- | --- | --- | --- | --- |
| 390 | 27.6g | 12.8g | 26.3g | 5.4g | 0.7g |
Click on the stars to rate this recipe: