Cloud eggs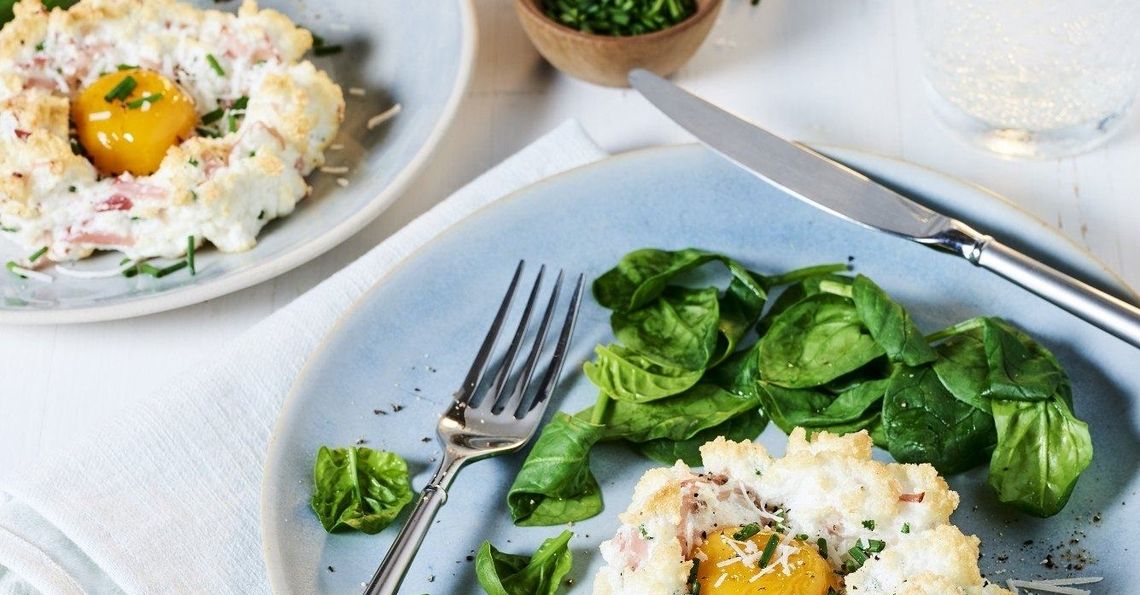 Serves: 4
Prep: 5 mins
Cook: 10 mins
Ingredients
4 British Lion Eggs, separated
25g parmesan, finely grated, plus extra for garnish
100g wafer thin ham, finely shredded
1 tbsp. chives, plus extra to garnish
1 tbsp. olive oil
100g baby spinach, slightly wilted
Method
Preheat the oven to 220C/200Fan/Gas Mark 7. Line a large baking tray with baking parchment.
Whisk the egg whites with an electric hand whisk in a large, clean bowl with some seasoning until stiff.
Using a large metal spoon fold in the parmesan, ham and chives. Place four mounds of egg whites onto the prepared baking sheet. Using the back of a spoon create a slight dip in the middle of each.
Bake for 3-4 minutes, then slide the egg yolk on top and bake for a further 3-4 minutes, until the egg whites are golden.
While the eggs bake heat the olive oil in a medium frying pan over medium-high heat and add the baby spinach with a pinch of salt and pepper. Cook until just starting to wilt.
Serve the cloud eggs, scattered with extra chives and parmesan cheese, with the wilted spinach.
Cooks tips
| | | | | | |
| --- | --- | --- | --- | --- | --- |
| ENERGY (kcals) | PROTEIN (g) | TOTAL FAT (g) | SAT. FAT (g) | CARBS (g) | Salt (g) |
| 162 | 15.1 | 11 | 3.4 | 0.7 | 1.2 |
Click on the stars to rate this recipe: