Smoked salmon and pea frittata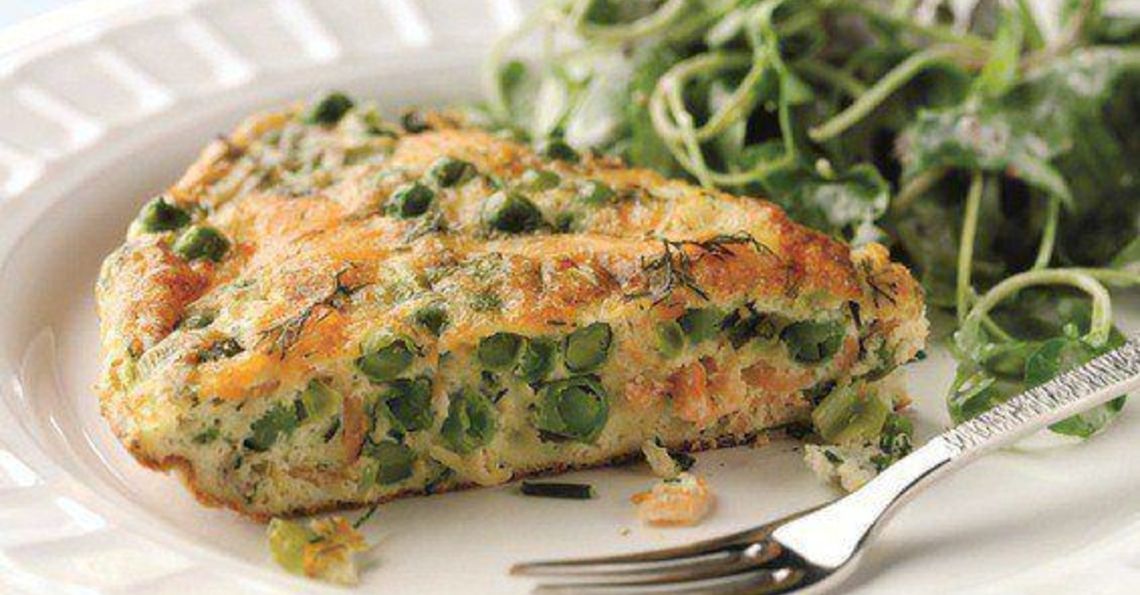 Serves: 4
Prep: 5 mins
Cook: 10 mins
A delicious smoked salmon and pea frittata recipe.
Ingredients
1 pack (100g) of smoked salmon trimmings, roughly chopped
8 large British Lion eggs
A handful of fresh dill, chopped
1 cup (100g) of frozen peas, defrosted
Zest of 1 lemon
4 Spring onions, chopped
Olive oil
A pinch of salt and pepper
25g Parmesan cheese, grated, to serve (optional)
For the salad:
1 bag (140g) of rocket, spinach and watercress leaves
For the dressing:
100 ml crème fraiche
Juice of 1 lemon
1 tsp wholegrain mustard
Salt and pepper, to taste
Method
Beat the eggs in a large bowl and add the dill, lemon zest, salt and pepper and some grated parmesan.
Heat olive oil in an oven-proof sauté or frying pan. Sauté the spring onions ((use a small amount of oil in a shallow pan and fry over a relatively high heat) for a few minutes to soften.
Add the salmon trimmings to warm through and take on some extra flavour, along with the peas.
Then, pour in the egg mix and cook, jiggling occasionally and moving the mixture around in the pan, until the bottom of the frittata is set and golden brown.
Pop the frittata under the grill to finish cooking the top, for about 3-5 minutes. Finish with freshly grated parmesan if wanted.
For the salad, mix the dressing ingredients together and toss with the leaves. To serve, tip the frittata on to a large plate and top with the salad.
Nutritional information, per serving:

| Calories | Carbs | Protein | Fat | Saturates | Salt |
| --- | --- | --- | --- | --- | --- |
| 236 | 3.2g | 22.9g | 14.9g | 3.6g | 1.8g |
Click on the stars to rate this recipe: