Scrambled egg and black bean tacos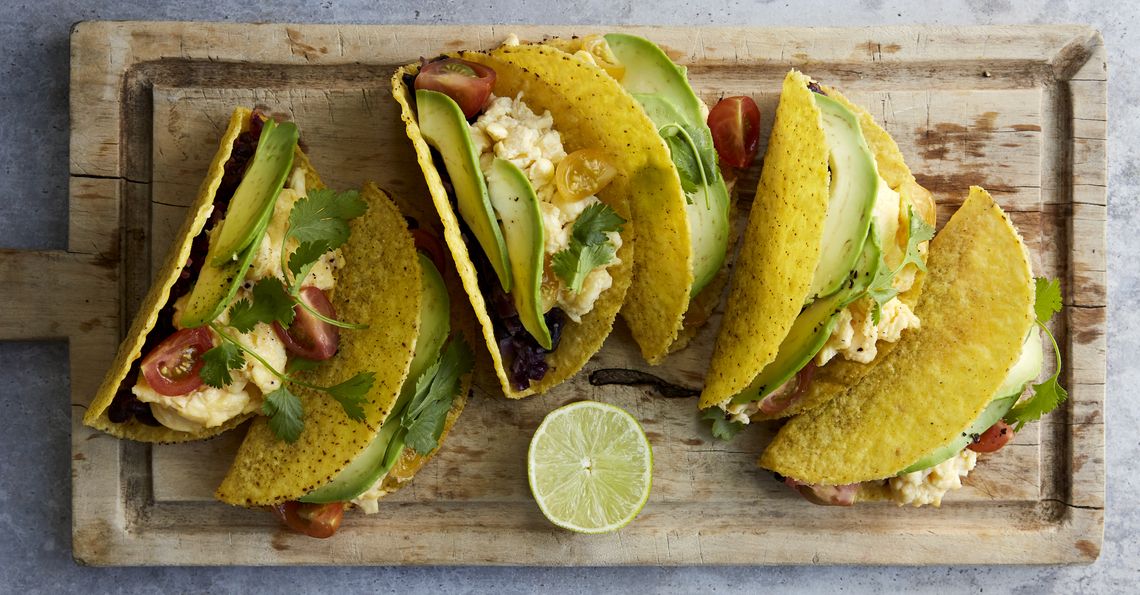 Serves: 4
Prep: 5 mins
Cook: 15 mins
Scrambled egg and black bean tacos are perfect for a healthy lunch or dinner.
Ingredients
6 British Lion eggs
80ml milk
8 taco shells or small corn tortillas
1 can of black beans, rinsed and drained
1 tsp cumin
Juice of half a lime
1 clove of garlic, peeled and grated
2 tbsp olive oil
1 small red onion, diced
Salt and pepper
1/4-1/2 dried chili flakes
1 avocado, peeled and sliced
Handful of cherry tomatoes, quartered
Fresh coriander (optional)
Method
Preheat the oven to 180C, place the tacos open end down on a baking tray and heat for 2-3 minutes.
Heat one tablespoon of olive oil in a saucepan over a medium heat. Add the onion and garlic and sauté for 3-5 minutes until soft and translucent.
Stir in the black beans, cumin, lime and chili flakes. Cook for 2-3 minutes until the beans are warmed through. Season with salt and pepper.
Crack the eggs into a bowl and whisk together with the milk. Add a pinch of salt and pepper.
Heat a large saucepan over a medium heat and add the oil. Add the eggs and cook for approximately 5 minutes, stirring frequently until the eggs are scrambled and cooked through. Remove from heat.
Spoon the mixed beans and scrambled eggs into each taco and top with sliced avocado, cherry tomatoes, and fresh coriander.
Click on the stars to rate this recipe: