Turkish scrambled eggs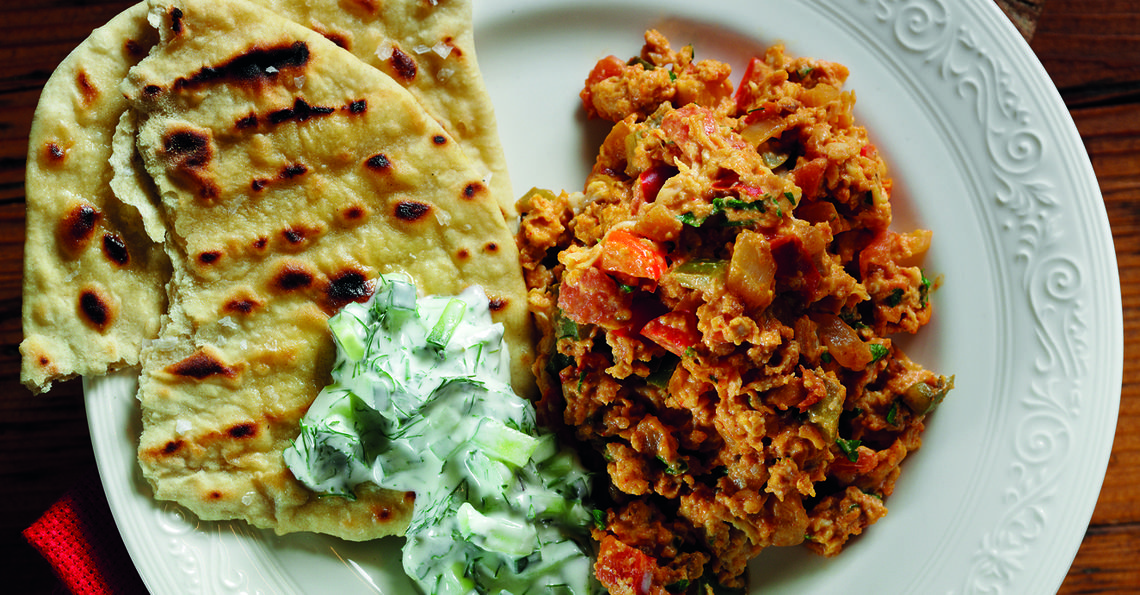 Serves: 2
Prep: 10 mins
Cook: 15 mins
Ingredients
1 tbsp olive oil
½ red pepper, diced
½ green pepper, diced
½ onion, chopped
1 tsp paprika
½ tsp dried oregano
8 cherry tomatoes, chopped
4 large British Lion eggs, beaten
3 tbsp soured cream
Juice ½ lemon
3 tbsp parsley, roughly chopped
For the sauce…
1 clove of garlic, crushed
2 tsp dill, chopped
2 tsp mint, chopped
2 tsp extra virgin olive oil
100g yogurt
½ cucumber, finely chopped
Juice ½ lemon
Flatbread to serve (or make your own – see below)
Method
Heat oil in a large non-stick frying pan, add peppers, onions, paprika and oregano and cook for five minutes, until softened. Add tomatoes and cook until reduced down by half.
Add eggs and cook over a low heat, stirring all the time until the eggs start to set. Add soured cream, lemon juice, season to taste and stir in the parsley.
Mix all the ingredients for the sauce adding lemon juice and salt to taste. Serve with the scrambled eggs and warmed flatbread.
Cooks tips
To make your own flatbread…
1. Mix together 200g of plain flour, 1 tbsp olive oil, 100ml water and a pinch of salt and knead the dough until smooth. Divide into 4 balls and roll into ovals, 3mm thick.
2. Heat a cast iron frying pan or griddle pan, cook flatbreads, one at a time, for about 1-2 minutes on each side until a deep golden colour. Brush with a little more olive oil and sprinkle with flaked salt.
Nutritional information, per serving:

| Calories | Carbs | Protein | Fat | Saturates | Salt |
| --- | --- | --- | --- | --- | --- |
| 489 | 15.6g | 21.6g | 38.7g | 12.0g | 0.6g |
Click on the stars to rate this recipe: