Coffee and amaretto mini pancake stack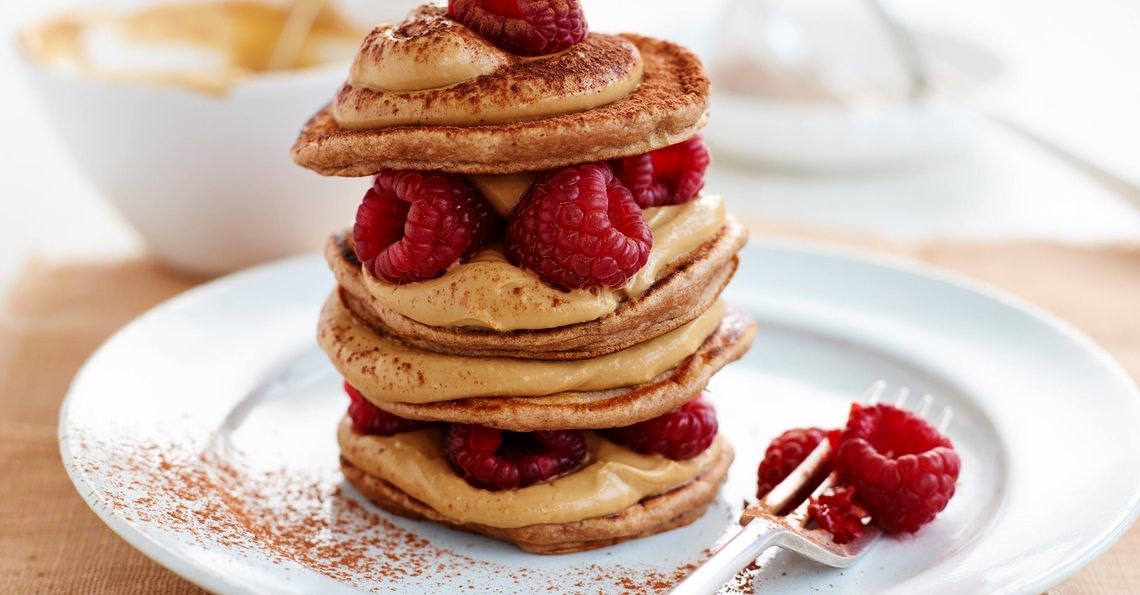 Serves: 4
Prep: 15 mins
Cook: 12 mins
Ingredients
For the pancakes...
140g plain flour
1 tbsp cocoa powder
1 tsp baking powder
2 tbsp icing sugar
2 medium British Lion eggs
125ml milk
1 tbsp sunflower oil
For the filling...
3 tbsp amaretto
2 tsp instant coffee, plus extra to serve
3 tbsp icing sugar
250g mascarpone
300g raspberries
Method
In a large jug, gently whisk together all pancake ingredients until smooth. Leave to stand for 10 minutes.
Heat a large frying pan over a medium heat and brush with oil. Pour in heaped tablespoons of pancake batter spacing a few centimetres apart. Repeat to fit 3-4 in the pan. Cook for about a minute until bubbles appear on the surface, flip or turn and cook for a further 30 seconds. Repeat with remaining mixture to make about 20 pancakes in total.
In a large bowl mix coffee, amaretto and icing sugar. Add the mascarpone and whisk until thick.
Spread a heaped teaspoonful of the coffee mixture onto each pancake, and layer to create a small stack, adding a handful of raspberries to two layers in each stack.
Dust with a little coffee and serve.
Click on the stars to rate this recipe: