Crêpe suzette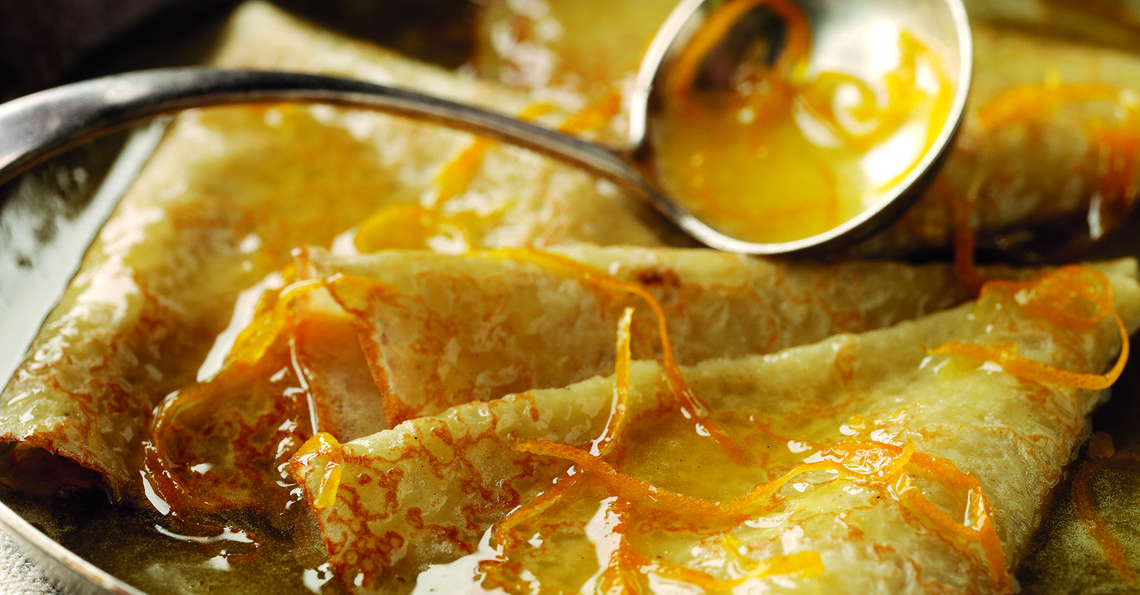 Serves: 4
Prep: 5 mins
Cook: 25 mins
A delicious retro recipe for pancakes in a boozy orange sauce
Ingredients
100g plain flour
pinch of salt
2 large British Lion eggs
200ml milk mixed with 4 tbsp water
2 tbsp butter, melted
1 tbsp caster sugar
zest and juice from 1 orange
For the sauce:
100g unsalted butter
75g caster sugar
zest and juice of 2 oranges
4tbsp Grand Marnier
Method
Sift the flour and salt into a large mixing bowl. Make a well in the middle of the flour and add eggs with half the milk and water. Whisk until the mixture is lump free. Add the remaining milk and whisk again until smooth. Add the melted butter, caster sugar and orange zest and 1 tbsp orange juice.
Pour the batter into a jug.
Heat a 20cm diameter non-stick frying pan until hot, drizzle a little oil over the centre and wipe it around with a piece of kitchen paper. Pour a little of the batter into the pan and immediately tilt the pan to spread the batter thinly and evenly over the base. Cook for 2 minutes or until the top is set and the base golden. Turn the crêpe over either by flipping it or with a spatula. 
Cook for a further 1-2 minutes or until the base is golden. Transfer to a plate and interleave with greaseproof paper, keep warm. Use the batter and a little more oil to make 7 more crêpes. 
For the sauce: gently heat the butter and sugar in a frying pan, stirring occasionally, until the sugar begins to dissolve; turn up the heat and bubble for about 4 minutes or until the mixture just starts to go brown and caramelise. Add the orange juice and zest letting the mixture bubble for 3-4 minutes to thicken slightly. Add the Grand Marnier, heat for a few seconds and lower the heat.
Fold the crêpe into quarters, and add to the sauce making sure the sauce covers the crêpes.
Click on the stars to rate this recipe: