Lemon meringue pie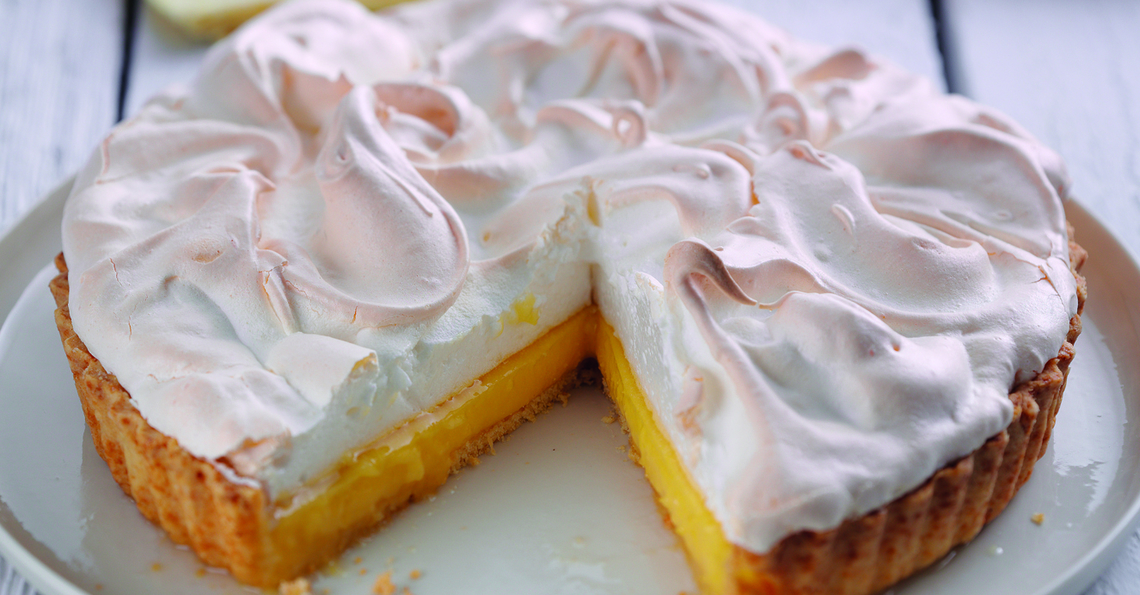 Serves: 8
Prep: 30 mins
Cook: 45 mins
Ingredients
For the pastry
200g plain flour, plus extra for rolling
2 tbsp caster sugar
100g cold butter, cubed
Zest and juice of 1 lemon
For the filling
2 ½ tbsp cornflour
100g caster sugar
Finely grated zest and juice of 4 lemons (you need 150ml juice)
75g butter
4 British Lion egg yolks, plus 1 whole British Lion egg (all medium)
For the meringue
4 British Lion egg whites
200g caster sugar
½ tbsp cornflour
Method
Heat oven to Mark 4/180C/160C fan. Place flour, sugar, butter and lemon zest in a food processor and pulse until you have a crumb like mixture. Add 2 tbsp lemon juice and 1 tbsp cold water, pulse to bring the mixture together, if it is a little dry add more water 1 tsp at a time until you have a firm smooth dough. Wrap dough in clingfilm and place in the fridge for 20 minutes.
On a lightly floured surface, roll out the pastry into a round, the thickness of a £1 coin. Use to line a 22-23cm fluted tart tin, pressing into the sides and trim off the excess pastry. Prick the base with a fork, line with baking paper and fill with baking beans. Place tin onto a baking sheet and bake for 20 minutes until the pastry is firm. Remove beans and paper and return to the oven for 5 minutes until pastry is a pale golden colour.
Put cornflour, caster sugar and lemon zest in a medium saucepan. Add lemon juice, 175ml cold water and butter. Gently bring the mixture to a boil, stirring constantly until thickened and smooth. Remove from the heat, leave for 1 minute and whisk in the yolks and whole egg. Pour immediately into the pastry case.
Place egg whites in a clean large bowl, whisk on high speed until they form soft peaks. Add a quarter of the sugar and whisk until thick and smooth, continue adding the sugar in quarter batches until  it has all been used and you have thick glossy peaks when the beaters are lifted out. Add the cornflour and whisk for a few seconds to incorporate.
Spoon teaspoonfuls onto the lemon filling, dropping randomly over the surface until covered- this helps to distribute the meringue evenly. Then add the remaining meringue in larger dollops, leaving as many peaks as possible.
Place in the oven for 18-20 minutes until the meringue feels crisp and is golden. Remove from the oven and leave for at least 30 minutes before slicing.
Cooks tips
Use a pack of ready-made shortcrust pastry to save time, or buy a pre-cooked pastry case.
Nutritional information, per serving:

| Calories | Carbs | Protein | Fat | Saturates | Salt |
| --- | --- | --- | --- | --- | --- |
| 432 | 66.5g | 5.8g | 17.8g | 11.2g | 0.4g |
Click on the stars to rate this recipe: