Egg custard tarts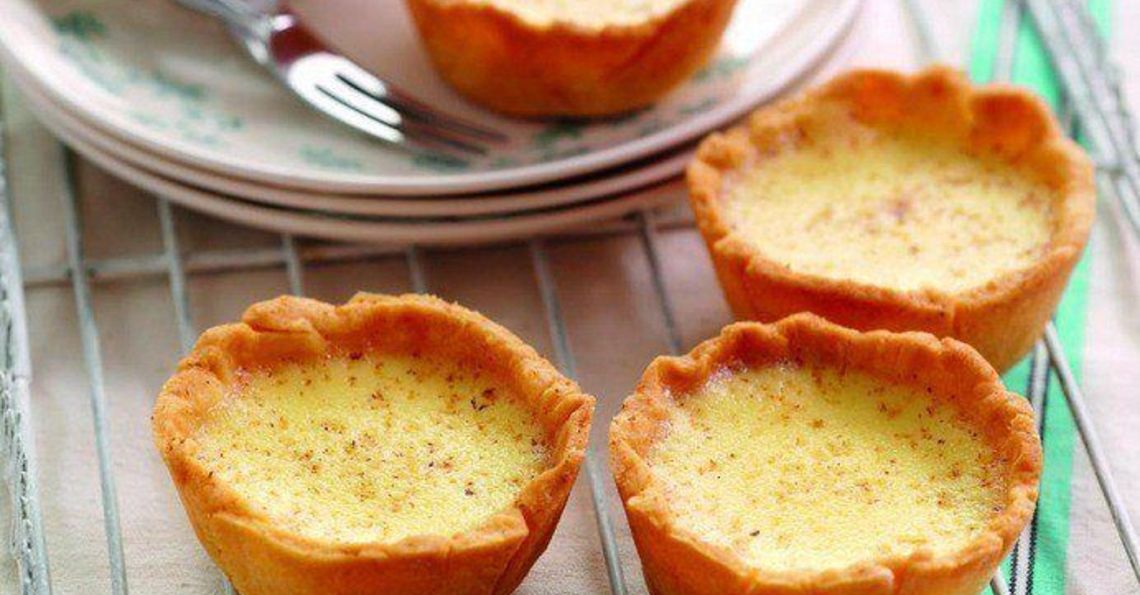 Serves: 6
Prep: 25 mins
Cook: 20 mins
Ingredients
For the pastry:
225g plain flour
50g icing sugar
A pinch of salt
125g unsalted butter, cubed
1 large British Lion egg
A little more butter for greasing
For the filling:
250ml whole milk
250ml double cream
2 Large British Lion eggs
2 Large British Lion egg yolks
75g caster sugar
1 tsp vanilla essence
Freshly grated nutmeg
Method
To make the pastry: Place the flour, icing sugar, salt and butter in a food processor and blitz until it looks like breadcrumbs. Alternatively, place the dry ingredients in a bowl and rub in the butter using your fingertips. 
Add the egg to the pastry crumb mix and blitz in the processor or stir in with a knife,    until the mixture comes together and forms a ball. Wrap and chill for 20 minutes
Meanwhile for the filling: Pour the milk and cream into a pan and slowly bring to the boil. Place the eggs and egg yolks in a large jug add the sugar and vanilla essence and beat together until creamy. Remove the milk from the heat, then pour it over the eggs and stir well. Return it to the pan, then place a fine meshed sieve over the jug and pour the mixture back through the sieve. Set aside.
To line the tins with pastry: Cut the dough into four pieces. Take the first piece and thinly roll it out, dusting the work top and rolling pin with flour. When it is about 2 mm thick, use a 10cm/4in plain cutter (or draw around a saucer if you prefer) to press out 3 rounds of pastry, rerolling pastry if necessary. Repeat to roll out 12 circles of pastry the same way.
Butter the base and sides of each of the 12 holes of a muffin tin - this ensures the pastry doesn't stick. Carefully push the pastry rounds into the holes, trying not to stretch the pastry too much. Push it neatly into the base and sides of each to tart case.
Line each pastry case with baking parchment and baking beans. Place the muffin tin on a baking tray and bake for 10 minutes. Remove the paper and beans and bake for a further 5 minutes or until the pastry is pale golden and the bases are dry.
Reduce the oven temperature to Fan130oC/150oC/Gas Mark 2. Carefully pour the prepared custard into the pastry cases, then sprinkle a little freshly grated nutmeg over each. Return to the oven and bake for a further 15-20 minutes or until the custard is firm, with a slight wobble. Cool for 5 minutes in the tin before removing. Best served chilled.
Click on the stars to rate this recipe: