Croissants with creamy scrambled eggs and slow roasted rosemary tomatoes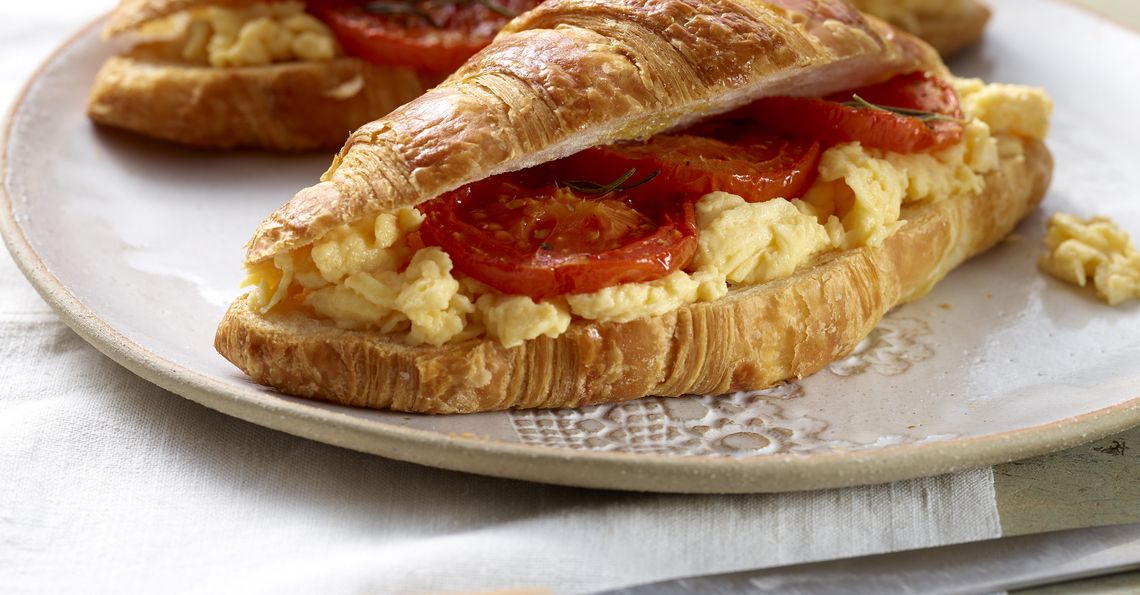 Serves: 2
Prep: 10 mins
Cook: 60 mins
Ingredients
2 croissants
4 large British Lion eggs
2 tbsp double cream
1 knob of butter
2 medium sized tomatoes, sliced into 2cm thick rounds
2 springs of rosemary, roughly chopped
Salt
Pepper
Olive oil
Method
1.    Preheat the oven to 130 C/110 C fan. Place the tomato slices on a roasting tray lined with baking parchment. 
2.    Generously drizzle olive oil over the tomatoes, sprinkle with sea salt, pepper and chopped rosemary. Roast for an hour, or until the tomato slices soften. 
3.    Beat the British Lion eggs and double cream together in a bowl and season with salt. 
4.    Heat a medium heavy base frying pan. On a low heat, melt the butter. Add the eggs and cook until desired consistency is reached, constantly stirring with spatula.
5.    Cut both croissants in half. Spoon the scrambled eggs over each bottom half and cover with tomato slices. Close with the croissant top and enjoy with a cup of tea!
 
Nutritional information, per serving:

| Calories | Carbs | Protein | Fat | Saturates | Salt |
| --- | --- | --- | --- | --- | --- |
| 588 | 29.3g | 18.9g | 45.0g | 20.7g | 1.7g |
Click on the stars to rate this recipe: