Courgette, sweetcorn hash and egg skillet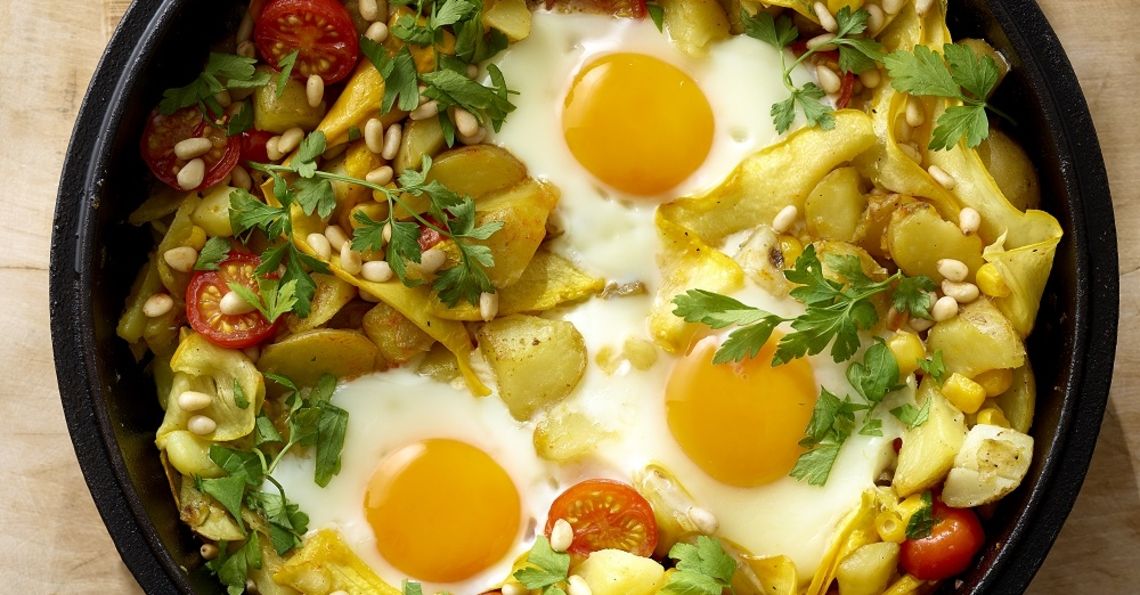 Serves: 2
Prep: 10 mins
Cook: 25 mins
A quick and easy recipe for a colourful breakfast.
Ingredients
3 medium British Lion eggs
1 tbsp rapeseed oil
200g potatoes, diced to 1.5 -2 cm cubes
1 garlic clove, peeled and sliced
1 shallot, peeled and finely sliced
1 small yellow courgette, turned into peels
200g sweetcorn
15g pine nuts
1 tsp chilli paste or sriracha sauce
100ml vegetable stock
20 cherry tomatoes, halved
10g parsley, roughly chopped
Method
1.    Heat up the rapeseed oil in a skillet over a medium heat. Add the diced potatoes and a pinch of salt. Stir and cook for 5 minutes, until the potatoes are nicely browned. Add a splash of water and continue stirring for another 3 minutes. 
2.    Add the garlic and shallot, courgette, sweetcorn and pine nuts. Stir again and cook for another 3 minutes. Add the chilli paste/sriracha with the stock. Leave to simmer for 5 minutes, until the water evaporates.
3.    Add the cherry tomatoes and with a spatula make two holes in the vegetable mix big enough for the eggs to be cracked into. Make sure there is still enough oil in the skillet, for the eggs to fry. If not, add a teaspoon into each hole. 
4.    Crack the British Lion eggs into the reserved spaces on the skillet. Cover with a lid and lower the heat. Cook, until the egg whites are set, this should take about 3-5 minutes, depending on the size of the eggs. 
5.    Take the lid off and serve in the skillet with the chopped parsley sprinkled over the vegetables and eggs.
 
Cooks tips
use a low in sodium, liquid stock – it's got so much more flavour and you can control the seasoning!
Nutritional information, per serving:

| Calories | Carbs | Protein | Fat | Saturates | Salt |
| --- | --- | --- | --- | --- | --- |
| 384 | 41.1g | 15.7g | 18.7g | 2.4g | 1.9g |
Click on the stars to rate this recipe: