Tom Daley's eggs & hollandaise brunch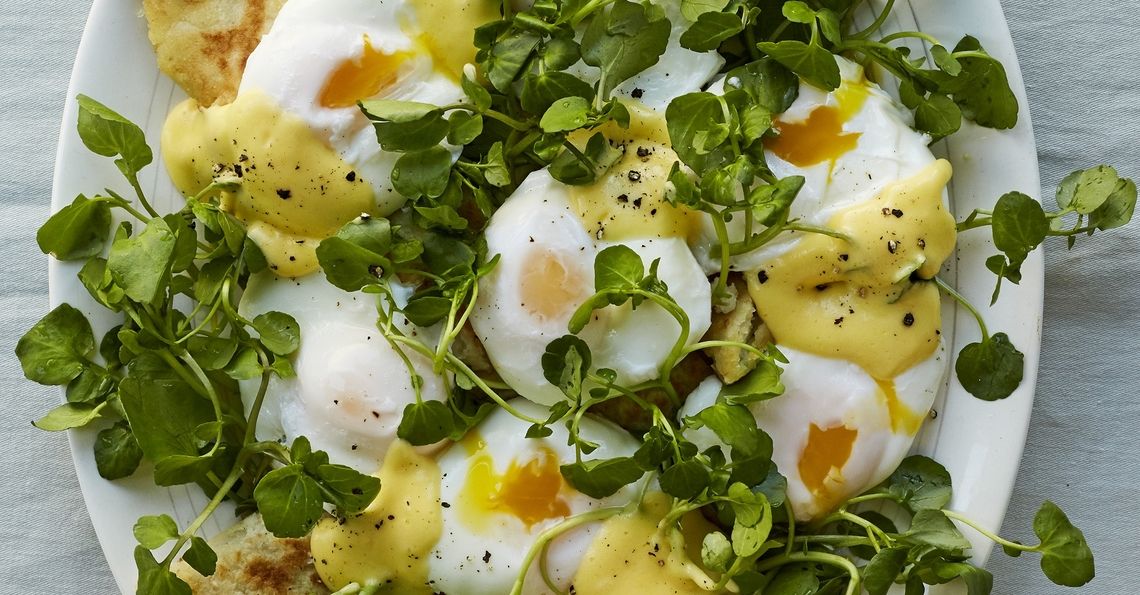 Serves: 4
Prep: 20 mins
Cook: 30 mins
Ingredients
400g mashed potato
80g plain flour
2 large British Lion egg yolks plus 8 large British Lion eggs for poaching
1/2 tbsp olive oil
Salt and pepper
1 tbsp white wine vinegar
150g unsalted butter, melted and cooled
Juice of 1 lemon
4 handfuls of watercress, washed and big stalks removed (approx 100g)
Method
Mix the mashed potato and plain flour together and season with salt and pepper. Turn the dough out onto a floured surface and roll into a 1cm thick disc, the same diameter as your frying pan.
 Heat 1/2 tbsp olive oil in a large, non-stick frying pan, carefully slide the potato disc into the pan and fry for 3-5 minutes on both sides until golden. Remove from the pan, cut into wedges and keep warm.
In a heat-proof bowl, whisk the 2 egg yolks together with the white wine vinegar and a pinch each of salt and pepper. Place over a pan of gently simmering water (make sure the bottom of the bowl does not touch the water otherwise you will get scrambled eggs!) and whisk continuously for a minute or so. Pour in the cooled, melted butter bit by bit and keep whisking until the sauce is smooth and thickened. Whisk in half the lemon juice, taste and add the rest if you like a sharper hollandaise. Set the sauce aside but keep it warm.
Bring a saucepan of water to the boil, turn down the heat to a gentle simmer and slowly crack the eggs in, one at a time. Simmer each egg for 2 minutes exactly. Remove with a slotted spoon and drain on kitchen paper.
Serve the potato wedges on a big platter, layer over the watercress, top with poached eggs and pour over the hollandaise. Finish off with salt and pepper.
Nutritional information, per serving:

| Calories | Carbs | Protein | Fat | Saturates | Salt |
| --- | --- | --- | --- | --- | --- |
| 666 | 31.3g | 23.5g | 50.7g | 25.3g | 0.7g |
Click on the stars to rate this recipe: