Deep fried eggs with chicory and bacon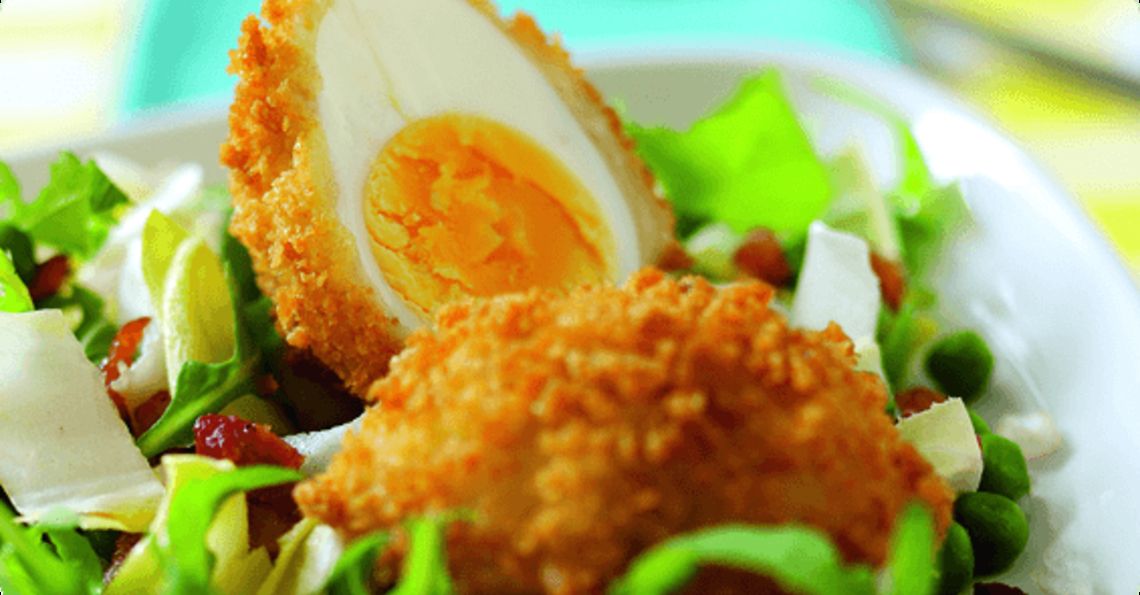 Serves: 2
Prep: 10 mins
Cook: 8 mins
This recipe made it to the final of British Lion eggs' 'Eggs Factor' competition and it's a cracking contender!  Serve with a crisp green salad for a summer feel all year round.  Have a look at our other quick recipes.
Ingredients
3 large British Lion eggs
a little seasoned flour
175g/6oz dried white bread crumbs
oil for deep frying
For the salad:
100g /4oz cubed pancetta
100g/4oz fresh peas
1 shallot, finely diced
1 head chicory leaf, shredded
a handful of wild rocket leaves
For the dressing:
1 raw British Lion egg yolk
1 sprig of thyme
30ml/2 tbsp white wine vinegar
60ml/4 tbsp olive oil
Method
Place two of the eggs in a small pan and cover with cold water. Slowly bring to the boil, then simmer for 6 mins. Drain, cool in cold water, tapping the shells all over to peel away the shell.
While eggs cook, sauté the pancetta in a dry frying pan for 4 mins or until the fat has run and the pancetta is crisp. Blanch the peas in boiling water for 1 min, then drain and cool. Drain, then mix with the shallots, chicory leaves, rocket and pancetta.
Beat the remaining egg and pour into a shallow bowl. Place the flour and breadcrumbs on two separate plates. Roll the boiled eggs in the flour, then the beaten egg and finally the breadcrumbs. Repeat until both the eggs are thoroughly coated. Deep fry for 1-2 mins or until the crumbs are golden and crisp. Drain on kitchen paper.
Finally make the dressing by whisking all the ingredients together. Divide the salad between two plates. Place the fried eggs in the centre of each then spoon a little dressing around the salad and plate of each. Serve straight away.
Click on the stars to rate this recipe: