Easy gado gado salad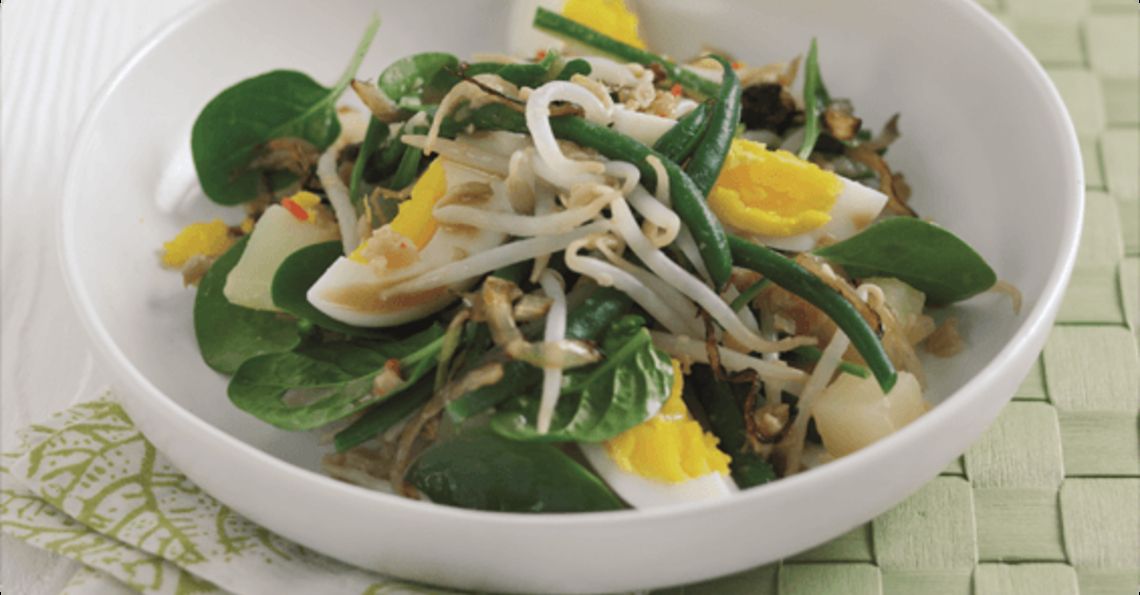 Serves: 4
Prep: 0 mins
Cook: 20 mins
Ingredients
For the dressing:
50g (2oz) salted peanuts
½ red chilli, halved and deseeded
1 tbsp toasted sesame oil
1 small onion (the size of a shallot), peeled and quartered
1 garlic clove, peeled
1 tbsp soy sauce
1 lime, juice only
3 - 4 tbsp sunflower oil
For the salad:
2 tbsp sunflower oil
2 onions peeled and thinly sliced
450g (1lb) potatoes (about 2), scrubbed and cut into chunks, then boiled and cooled
4 British Lion eggs, hard-boiled, shelled and quartered
110g (4oz) beansprouts blanched and drained
10g (4oz), fine green beans, trimmed, blanched and drained
75g (3oz), baby spinach washed and drained
10cm (4in) piece cucumber, cut into strips
Method
Tip: To blanch the beansprouts, plunge into boiling water for just one minute; the green beans will need three minutes in boiling water.
To make the dressing, put everything except the sunflower oil together with 5 tbsp of water in a mini blender and purée until smooth. Tip the sauce into a small saucepan and bring to the boil. Lower the heat, cover and simmer very gently for 5 minutes, stirring occasionally. Then remove from the heat and leave to cool.
Gradually whisk in the oil to make a thick dressing.
For the salad, heat the oil in a heavy-based frying pan over a medium heat. Add the onions and cook slowly for about 10 minutes until they start to turn a deep golden colour. Remove from the heat and drain off any excess oil.
Cut the cooked potatoes into bite-sized pieces. Arrange the potatoes, eggs, beansprouts, beans, spinach and cucumber in layers in a large salad bowl. Scatter with the crispy onions, pour over the dressing and toss together gently. Serve at once.
Click on the stars to rate this recipe: