Egg caesar salad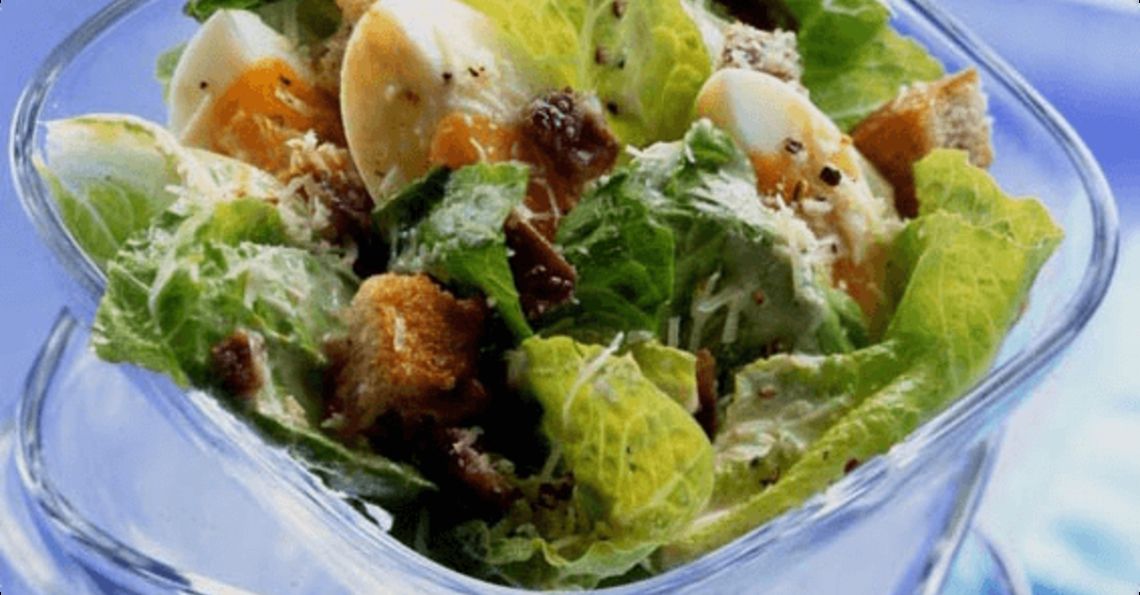 Serves: 4
Prep: 10 mins
Cook: 7 mins
This egg caesar salad brings a taste of summer to the dinner table - delicious.
Ingredients
6 large British Lion eggs
45ml/3tbsp olive oil
100g/4oz crusty white bread, cubed
1 garlic clove, halved
1 head Sweet Romaine or Cos lettuce, washed
1 (50g) can anchovy fillets in oil
25g/1oz freshly grated Parmesan cheese
For the dressing
60ml/4tbsp olive oil
juice of half lemon
2.5ml/ 1/2 tsp caster sugar
2.5ml/ 1/2 tsp Dijon mustard
2.5ml/ 1/2 tsp Worcestershire sauce
Method
Put the eggs in a medium pan, cover with cold water and bring to the boil. Boil for 7mins so that they are softly hard boiled, then drain, rinse in cold water tapping the shells all over. When cold, peel away the shells and cut into quarters. Place one egg in a food processor.
Meanwhile for the croutons, heat the oil in a frying pan, add the bread cubes and garlic and fry for 4-5mins over a medium heat, stirring until the croutons are crisp and golden. Drain on kitchen paper and discard garlic.
Tear the lettuce into large pieces and place in a salad bowl. Drain the anchovies, reserving 30ml/2tbsp of the oil for the dressing. Dice the anchovies and add to the bowl with the eggs and Parmesan cheese.
Place all the dressing ingredients into the food processor with the egg and anchovy oil and whizz together until a smooth dressing forms. Season to taste. Drizzle the dressing over the salad and serve immediately.
Click on the stars to rate this recipe: