Pickled eggs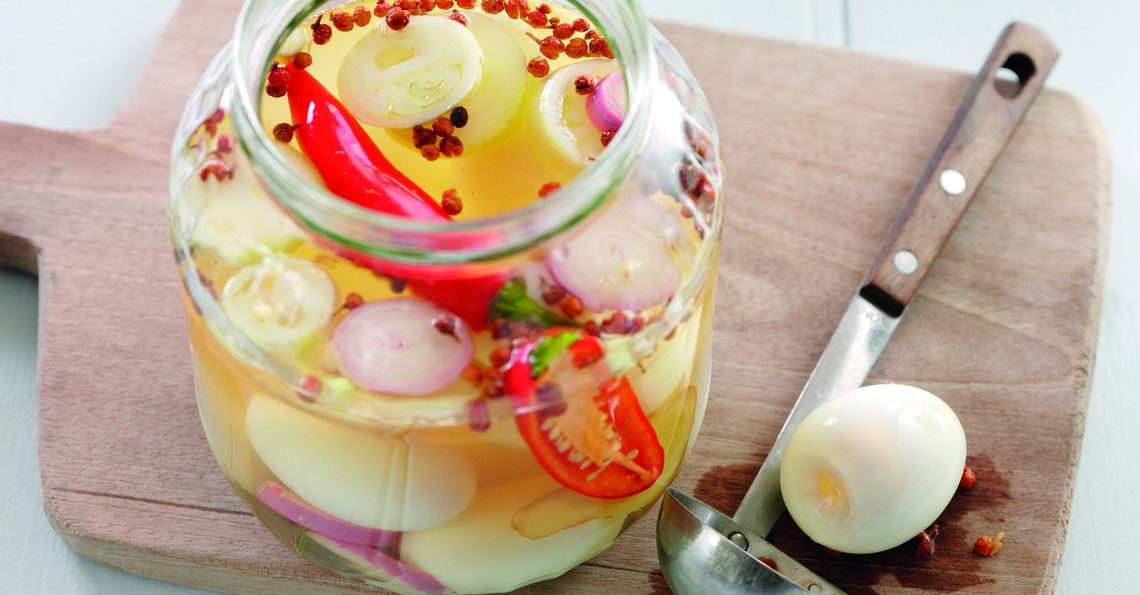 Serves: 6
Prep: 20 mins
Cook: 15 mins
A British classic - perfect for picnics or a satifying snack.
Ingredients
12 medium British Lion eggs
750ml (1 1⁄2 pints) distilled vinegar or white wine/cider vinegar for a less dominant flavour
2 large mild chillies, sliced lengthways
2 large shallots, sliced
25g piece root ginger, sliced
2 tbsp Szechuan or black peppercorns
Method
Hard-boil medium British Lion eggs for 6 minutes and shell.
Bring vinegar to a boil in a saucepan, add chilli, shallots, ginger and peppercorns, return to the boil and remove immediately from the heat. Allow to cool completely.
Pack eggs into one large Kilner or screwtop jar or several smaller ones. Pour cooled spiced vinegar onto eggs to cover completely.
Cover jar tightly and store for 4 weeks or longer before use.

Pickled eggs can be served with bread and cheese, salads, cooked meats, smoked fish or as a snack.
Cooks tips
For a traditional pickled egg, use 25g pickling spice and a blade of mace, simmered in the vinegar for 30 minutes, strained and cooled.
Nutritional information, per serving:

| Calories | Carbs | Protein | Fat | Saturates | Salt |
| --- | --- | --- | --- | --- | --- |
| 82 | 0.8g | 6.8g | 4.7g | 1.3g | 0.2g |
Click on the stars to rate this recipe: