Scotch egg recipe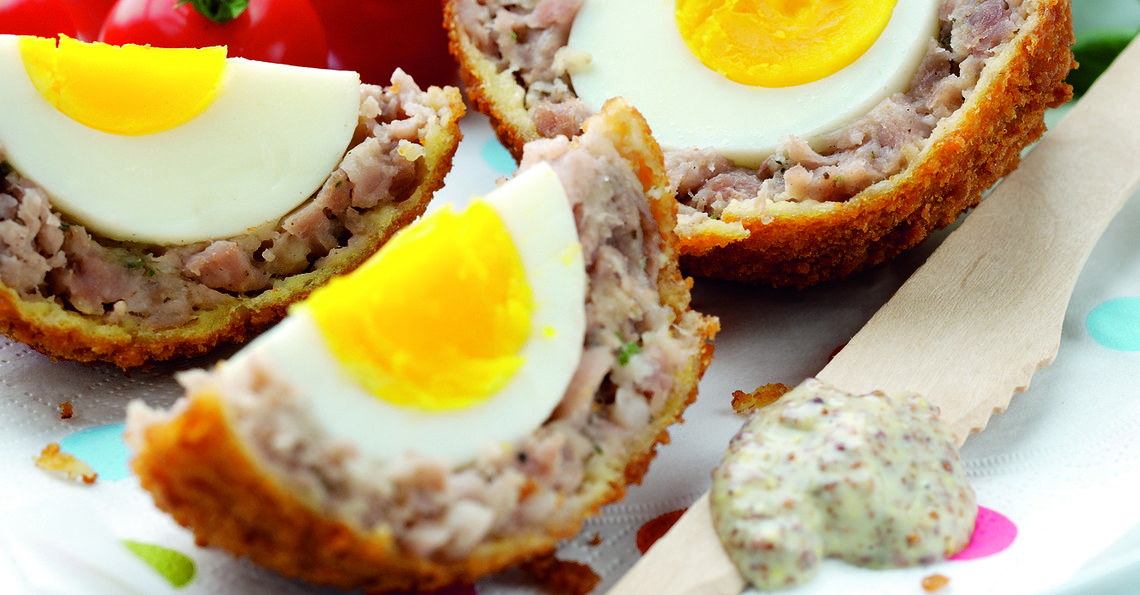 Serves: 3
Prep: 15 mins
Cook: 15 mins
The humble Scotch egg is a quintessentially British snack that is currently enjoying a culinary renaissance, with pubs, butchers and even top Michelin star restaurants all creating their own renditions of the country's most treasured snack. 
At its best a Scotch egg is all about raw simplicity: a hard-boiled egg wrapped in a hearty sausage mixture, covered in glorious golden breadcrumbs.
Home made Scotch eggs are easier to make than you think and bound to be popular with the family. See our classic recipe and create your own.
Ingredients
4 large British Lion eggs
6 (1 x 500g pack) good quality sausages
60ml/4tbsp milk
45ml/3tbsp plain flour
100g/4oz fresh white breadcrumbs
vegetable oil to cook
60ml/4tbsp low fat mayonnaise
30ml/2tbsp wholegrain mustard
Method
Place 3 eggs in a small pan, cover with boiling water and bring to the boil. Cook for 6 mins. Meanwhile, mix the mayonnaise and mustard together and spoon into a small dish.
Drain the eggs, rinse in cold water, tapping the shells all over. When cool enough to handle, peel away the shells. Heat the oil in a fryer or deep large pan to 160C/325F.
Meanwhile, use a knife to cut the sausage skins and peel them away. Mix the sausagemeat together and divide into 3. Beat the remaining egg with the milk and place in a shallow dish. Place the flour and breadcrumbs on plates.
Flatten the sausagemeat, roll the boiled egg in flour then wrap the sausagemeat around the egg to make a neat egg shape. Roll the egg in the flour; dip in the beaten egg, then roll in the breadcrumbs. Repeat dipping the egg in flour, egg and breadcrumbs.
Use a slotted spoon to carefully lower the eggs into the hot fat and cook for 8 mins or until the eggs are golden on the outside (it's important that the oil is not too hot, so that the sausagemeat has a chance to cook through). Remove the eggs from the hot fat and drain on kitchen paper. Leave to cool. Serve warm or cold with salad and the mustard mayo.
Video: How to make Scotch eggs
Click on the stars to rate this recipe:
About the Scotch egg
Many have tried to lay claim to the Scotch egg – some accounts trace it back to North Africa, whilst others say that it originated from Indian Cuisine. Closer to home, some opinions point at Yorkshire where the locals coated eggs in fish paste and called them 'Scotties'.  To add further speculation the London department store Fortnum & Mason claims to have been the original creator behind the Scotch egg back in the year 1978.  One thing's for sure – despite its name, the dish didn't come from Scotland! 
Today, Scotch eggs are as popular as ever and are a staple at any picnic worth its salt. Pubs and supermarkets all sell their own creations and experiment with different fillings and coatings. What they differ in ingredients they share in taste and there's really not much better than tucking into a hearty, satisfying Scotch egg.
Homemade Scotch eggs recipes
Culinary experimentation has led to a flurry of choice. See the recipes on this page for our selection, including spicy potato, gluten-free, turkey mince, smoked haddock and falafel Scotch eggs.
Scotch eggs are great for many occasions: Whether you're looking for a rustic dinner party start, a picnic-crowd pleaser or just looking to try something in the kitchen, then try out one of our recipes.