Spicy potato Scotch eggs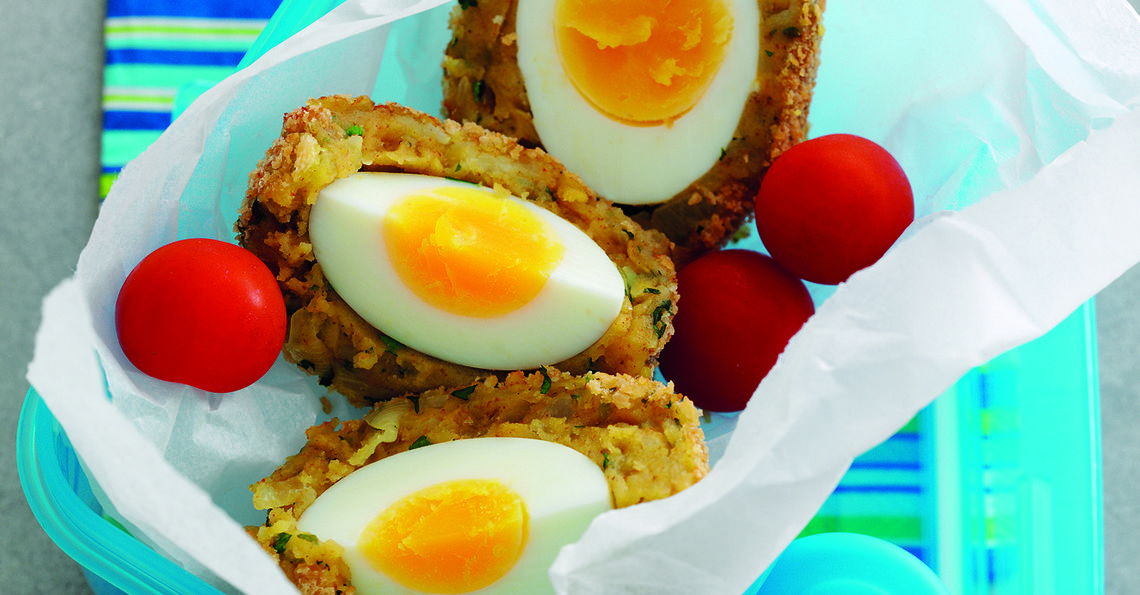 Prep: 15 mins
Cook: 10 mins
Makes four potato scotch eggs.
Ingredients
500g potatoes, peeled
5 large British Lion eggs
1 large onion, chopped
1 green chilli, deseeded and chopped
1 tbsp vegetable oil
2 tbsp Madras curry paste
3 tbsp chopped fresh coriander
75g panko or other dried breadcrumbs
Vegetable oil for deep frying
Salt and freshly ground black pepper
Mango chutney and salad (to serve)
Method
Cook the potatoes in boiling salted water until tender. Drain, mash and allow to cool. You can do this ahead of time.
Place four of the eggs in a pan and cover with cold water. Bring to the boil and once boiling leave for five minutes. Drain and rinse in cold water. When cold enough to handle, tap the shells all over and peel away from the eggs.
Heat the oil in a frying pan, add the onion and fry until soft. Add the chilli and curry paste and cook for 30 seconds. Remove from the heat and add the potatoes and coriander and mix together. Season to taste.
Beat the remaining egg and place in a shallow bowl. Sprinkle the breadcrumbs onto a plate.
Divide the potato mix into four pieces, slightly flatten one piece in the palm of your hand, place a boiled egg in the middle, then shape the potato around the egg to enclose it. Roll it in the beaten eggs and breadcrumbs until well coated. Repeat with the other three eggs.
To oven bake: Brush the breadcrumbs all over with vegetable oil and place on a baking parchment lined baking tray. Bake at 220C/Fan 180C/Gas Mark 6 for 20 minutes.
To deep fry: Heat vegetable oil in a deep fat fryer (or half fill a wok with oil) to a temperature of 170C. Fry the eggs two at a time for about four minutes until golden brown all over. Drain on kitchen paper. 
Serve the eggs warm or cold with salad and mango chutney.
Nutritional information, per serving:

| Calories | Carbs | Protein | Fat | Saturates | Salt |
| --- | --- | --- | --- | --- | --- |
| 323 | 41.5g | 15.1g | 11.9g | 2.2g | 0.9g |
Click on the stars to rate this recipe: