Egg and pea protein pots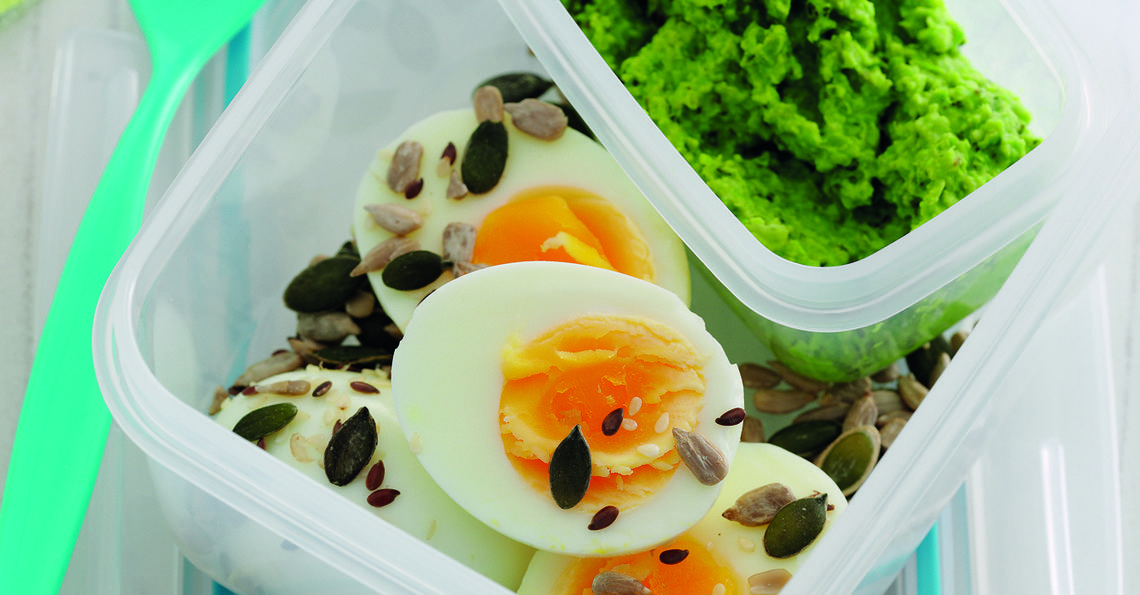 Prep: 2 mins
Cook: 8 mins
Ingredients
150g frozen peas
4 large British Lion eggs
2 spring onions, chopped
2 tbsp fat free Greek yogurt
1 tbsp vegetable oil
Salt and freshly ground black pepper
A handful of mixed seeds
A couple of mint sprigs
Method
Place the eggs in a pan and cover with cold water. Bring to the boil, once boiling set the timer for six minutes. Drain and rinse with cold water. When cold enough to handle, tap the shells all over and peel away from the eggs.
While the eggs are cooking, heat the oil in a frying pan, add the onions and cook until soft. Add the peas and cook until the peas are hot.
Remove from the heat, season well and add the mint and yogurt. Use a stick blender to whizz until smooth. Divide between two small pots. 
Place two boiled eggs in a container (halve them if you prefer) and sprinkle over seeds. Place a pot of pea puree alongside and seal. Chill until required. Will keep for two days in the fridge.
 
Cooks tips
Makes: 2 pots.
Also: See our how-to guide to perfect boiled eggs.
Click on the stars to rate this recipe: