How to make an omelette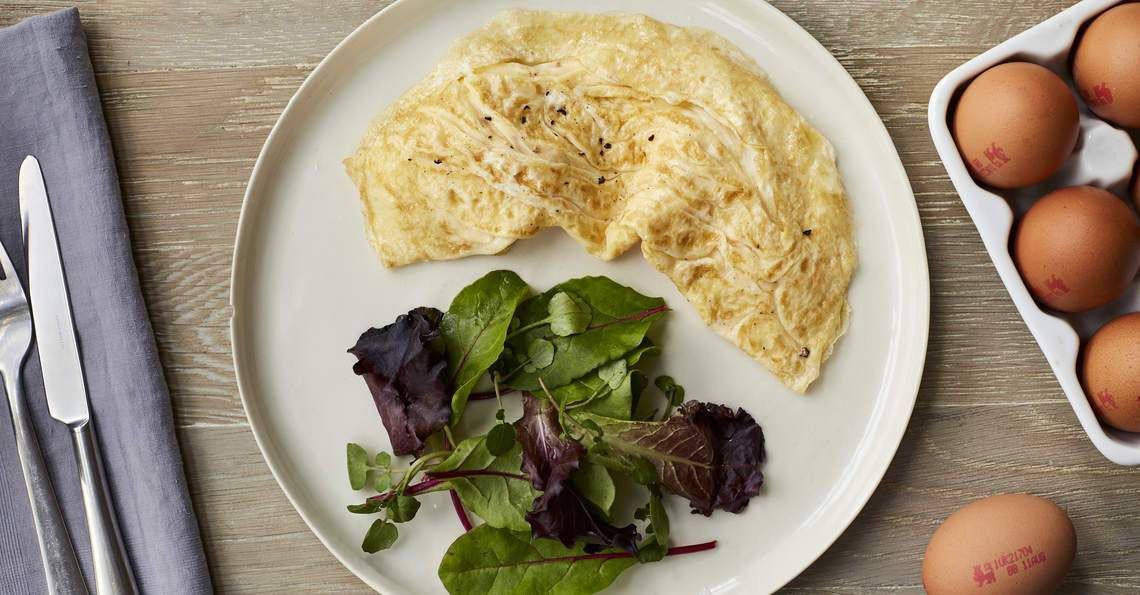 Serves: 1
Prep: 2mins
Cook: 2mins
Healthy, quick and perfect for breakfast, lunch or dinner, omelettes are one of the most popular and versatile dishes. Follow our simple seven step method and learn how to make an omelette - fluffy, light and delicious.
Omelette recipes can be as simple or extravagant as you want, and with just a couple of eggs and a pinch of salt you can whip up a tasty meal in minutes, or add your own personal flair with a whole range of filling ingredients. There are so many omelette fillings to choose from - the ham, tomato and cheese omelette is a classic choice, but there are plenty of other adventurous options.
Ingredients
2 large British Lion eggs
Pinch of salt and pepper
1 tsp cold water
Dash of oil
Method
Take your eggs and crack them into a bowl – don't put them directly into the pan as you need to mix them first!
Tip: If you're looking to include omelettes as a regular fixture in your meals throughout the week then there are a number of ways you can make the cooking process even quicker.  For example, removing your eggs from the fridge and allowing them to reach room temperature will see your omelette form in the pan quicker.
Add a teaspoon of water and a pinch of salt and pepper before whisking with a fork until the white and the yolk are fully blended.
Bring your pan to a high heat and add oil so that the mixture doesn't stick.
Tip: When you're looking to create the perfect omelette, you'll need to bear in mind the size of your pan.
A large pan could cause the omelette to spread too thinly which is more prone to overcooking, while a small pan could make the omelette too spongy and thick to fold. Sticking to a regular pan (around 22cm) should help you create the right texture and depth for a two-egg omelette.
Pour in your mixture and cook on a high heat for two minutes, making sure that mixture is spread out evenly.
As the egg begins to set, use a spatula to push the set egg towards the omelette centre.
Cook the set omelette for another minute, then loosen the edges with a spatula and fold the omelette in half.
Tilt the pan and slide the omelette onto a warm plate and serve immediately on its own or with a crisp green salad.
Nutritional information, per serving:

| Calories | Protein | Fat | Saturates | Salt |
| --- | --- | --- | --- | --- |
| 166 | 16.4g | 11.8g | 3.1g | 1.0g |
Click on the stars to rate this recipe:
How to make the perfect omelette
Preparation
Make sure your fillings and ingredients are prepared and ready to go before cooking. If you're making a breakfast omelette, you could prepare all your ingredients the night before so you can blitz through the process when you wake up.
Videos: How to make an omelette
Omelettes are the perfect recipe for a quick and easy meal that can be enjoyed by the whole family, from kids and babies to expectant mothers. Whether you're a professional chef or a kitchen beginner, we hope you find our omelette videos useful.
Quickly make the perfect omelette with celebrity chef Paul Merrett using British Lion eggs. Watch the video..
You may also like to watch Paul Merrett making a Spanish omelette. Watch the video.
Watch the video about cooking a delicious ham, cheese and rocket omelette.
Watch: How to make an omelette