Stir-fried vegetable omelette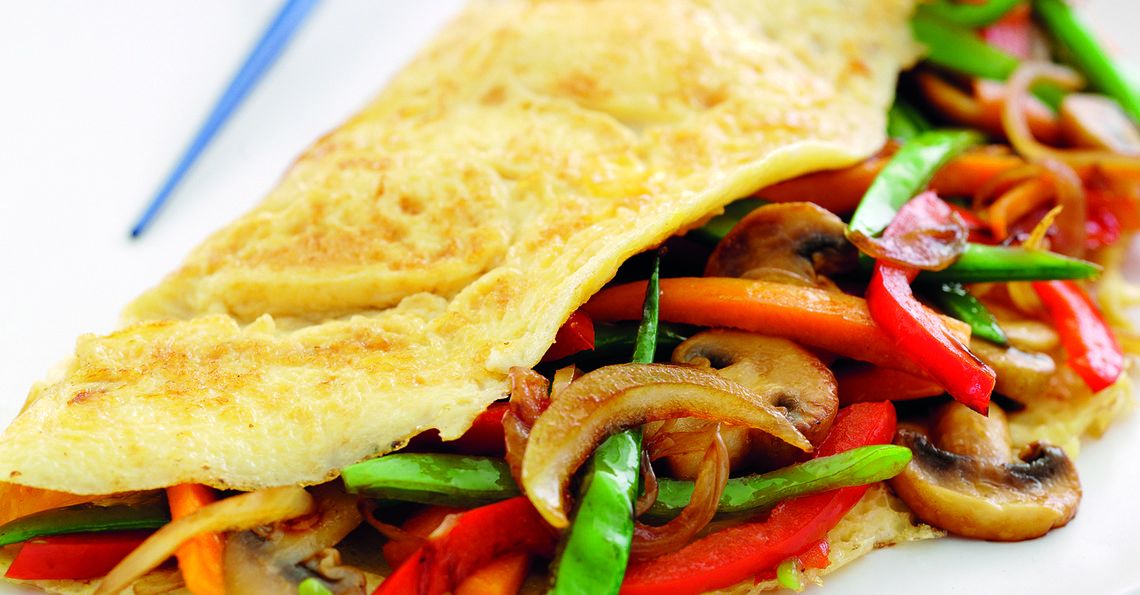 Serves: 1
Prep: 10 mins
Cook: 10 mins
This dish is a good way of adding extra vegetables to an athlete's diet, providing at least two of the recommended five a day portions. The eggs supply protein to help re-build muscles after intense exercise while the vegetables add fibre, vitamins A and C, and potassium.
Ingredients
2 teaspoons/10ml vegetable oil
1 small onion, sliced
1 garlic clove, crushed
1 teaspoon/5ml chopped fresh root ginger
1 small carrot, cut into strips
½ red pepper, deseeded and sliced
60g/2oz mange-tout, trimmed and halved
4 button mushrooms, sliced
1 tablespoon/15ml soy sauce
Juice of ½ lime
For the omelette:
2 large British Lion eggs
Salt and freshly ground black pepper
2 teaspoons/10ml vegetable oil
Method
For the stir-fried vegetables, heat the oil in a wok or heavy-based pan, and then add the onion, garlic and ginger. Cook for two minutes and add the carrot, mange-tout and mushrooms. Stir-fry for 3 – 4 minutes until softened. Stir in the soy sauce and lime juice and set aside.
For the omelette, beat the eggs in a small bowl and season with salt and pepper. Heat the oil in a medium non-stick frying pan, add the egg mixture and cook for 2 - 3minutes over a medium heat until the egg is almost set all the way through.
Pile the stir-fried vegetables on one half of the omelette and fold the other half over the top. Slide onto a plate and serve with boiled noodles or rice.
Nutritional information, per serving:

| Calories | Protein | Fat | Saturates | Salt |
| --- | --- | --- | --- | --- |
| 346 | 19.8g | 23.2g | 4.2g | 0.6g |
Click on the stars to rate this recipe: