Vivek Singh's omelette curry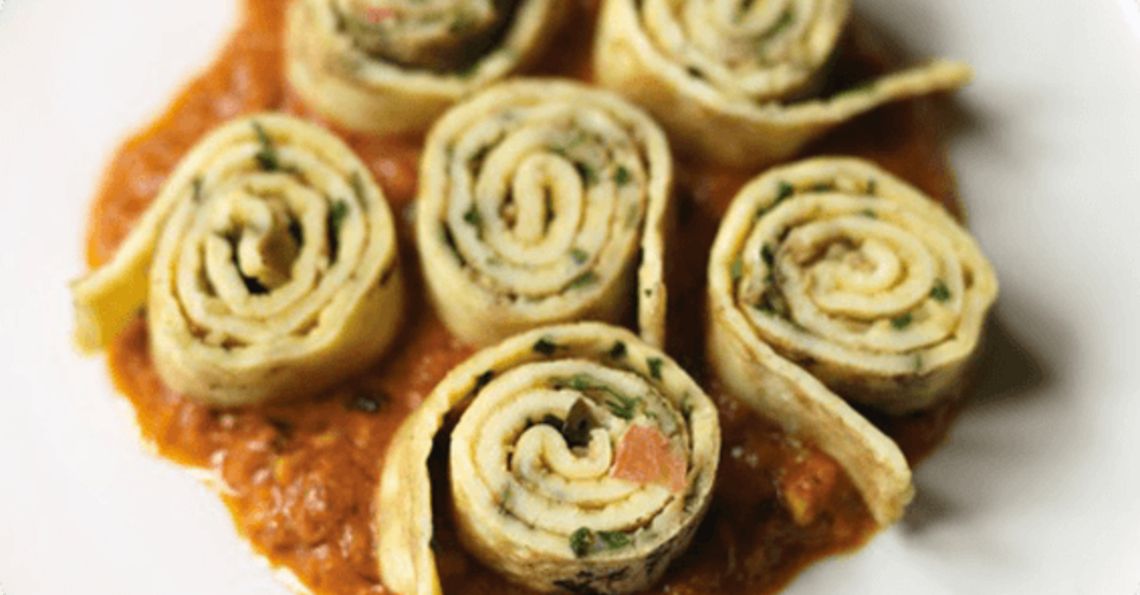 Serves: 4
Prep: 20 mins
Cook: 30 mins
This rather simple dish made with rolled up spiced omelette is a quick and easy, yet impressive dish. You can be really imaginative with flavourings and try whatever is in season to flavour it.
Recipe courtesy of celebrity chef Vivek Singh, for British Egg Week 2011.
Ingredients
6 large British Lion eggs
1 red onion, finely chopped
2 green chillies, seeded and finely chopped
½ tsp roasted cumin seeds, coarsely crushed
½ tsp turmeric
1 tbsp chives, finely chopped
1 tsp green coriander, finely chopped
1 ½ tsp salt
½ inch piece of ginger, finely chopped
2 tbsp oil
For the sauce:
3 tbsp oil
1 bay leaf
2 green cardamoms
1 large onion, finely chopped
1 tbsp ginger and garlic paste
1 tsp red chilli powder
½ tsp ground cumin
½ tsp ground coriander
½ tsp ground turmeric
1 tsp salt
3 tomatoes, pureed
½ tsp sugar
½ tsp ground garam masala
1tbsp green coriander, chopped
1 tbsp single cream
juice from ½ lemon
Method
Break the eggs and whisk together with all the other ingredients except the oil.
Take a large shallow non-stick frying pan and heat the oil, pour in just enough egg mixture to make a thin omelette and as it begins to set, remove from pan and roll into a cylinder similar to a Swiss roll. Repeat the procedure to use all of the egg mixture. Cut the omelette rolls in 1.5 cm thick slices and keep warm.
For the sauce, heat the oil, add green cardamom and bay leaf and let it crackle for 30 seconds or so, add the onions and cook until golden brown. Add the ginger and garlic paste and stir for a minute. Add the red chilli powder, cumin and coriander, turmeric and salt and cook for another minute or so. Add the tomato purée and cook for 6-8 minutes until mixture is reduced by 1/2. Add sugar and garam masala and finish with fresh coriander, single cream and lemon juice. Pour the sauce on a serving dish and arrange the omelette slices over it. Serve as either a main dish or as an accompaniment.
Tip: You could add finely chopped vegetables like asparagus, olives, spinach or artichokes to the omelette if you liked. You may even be more experimental with the sauce adding curry leaves and coconut milk if you wanted to make it more interesting.
Click on the stars to rate this recipe: