Vietnamese prawn omelette wrap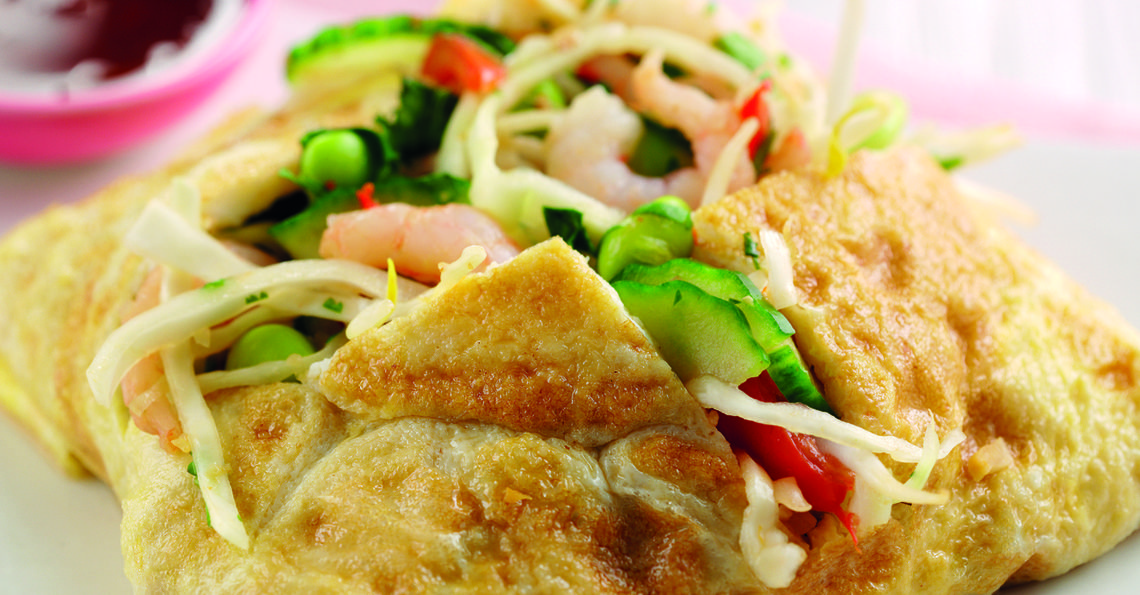 Serves: 1
Prep: 10 mins
Cook: 4 mins
Ingredients
2 British Lion eggs
3 tbsp frozen soya beans, thawed
50g peeled prawns
25g beansprouts
10g pickled ginger, chopped
½ tbsp peanuts, unsalted
¼ cucumber
½ tomato
Small handful of finely shredded white cabbage
1 tbsp fresh coriander, chopped
½ lime
2 tsp fish sauce
2 tbsp sweet chilli sauce
Method
Put the soya beans, prawns, beansprouts and pickled ginger in a bowl.
Separately cut the piece of cucumber in half lengthways and remove the seeds using a spoon then cut the cucumber into thin crescents and add to the other ingredients.
Cut the halved tomato into 6 wedges and add these to the bowl, then add the cabbage and coriander.
Heat a small frying pan and lightly roast the peanuts – don't add any oil. They will start to turn a golden brown and at this point turn off the heat and allow them to cool down. Lightly chop them and add to the salad ingredients.
Squeeze over the lime juice and add the fish sauce and sweet chilli sauce. Mix everything really well.
Crack the eggs into a bowl and whisk lightly. Heat a large non-stick frying pan and pour in the eggs. Tip the pan slightly so that the egg covers the entire surface area of the pan in one thin layer – you are making a large, round, flat omelette about the thickness of a pancake. When the eggs are set slide the omelette out onto a chopping board.
Take a good handful of the salad and give it a squeeze to remove the excess dressing - place in a ball in the centre of the omelette. Fold the omelette over the salad creating a square tight parcel. Flip the parcel over and cut an X in the top so that you can open up the omelette to see the salad.
Nutritional information, per serving:

| Calories | Protein | Fat | Saturates | Salt |
| --- | --- | --- | --- | --- |
| 531 | 49.3g | 29.9g | 6.0g | 0.7g |
Click on the stars to rate this recipe: