Feta, spinach and caramelised onion omelette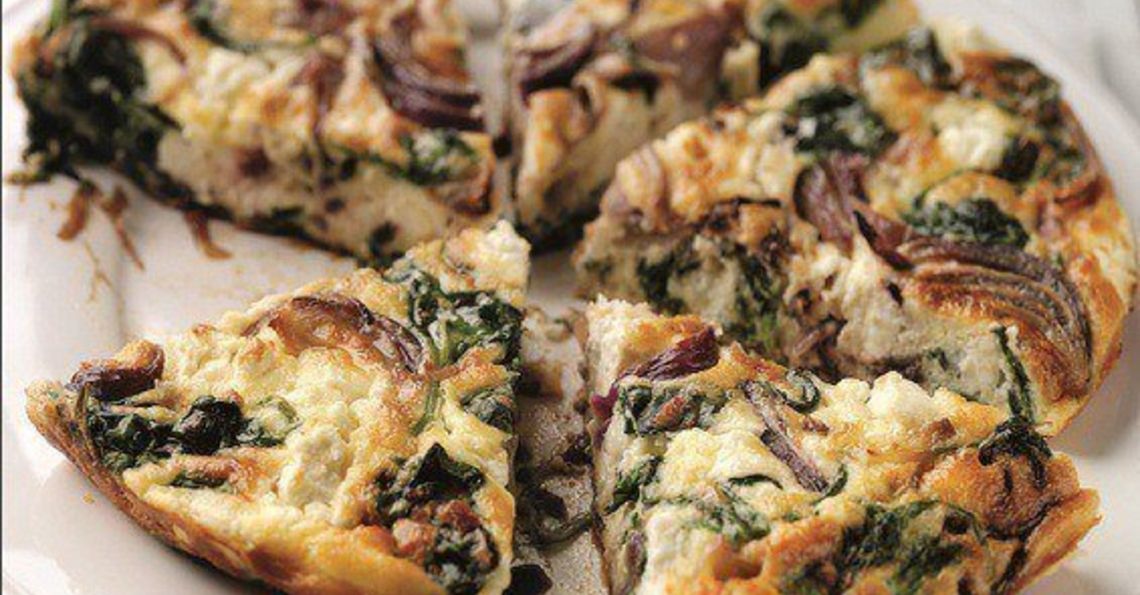 Serves: 4
Prep: 2 mins
Cook: 15 mins
Top chef Mark Sargeant gives us his luxurious take on a classic omelette, using crumbly feta, spinach and caramelised onion. Made with few ingredients and little cooking time there's no excuse not to whip up an outstanding omelette.
Ingredients
3 medium red onions
20g butter
Olive oil
150g spinach leaves
200g feta cheese
4 large British Lion eggs
Sea salt and pepper
Method
Set the oven at 200°C/gas mark 6. Peel the onions, and then slice them thinly. Melt the butter in an oven-proof pan, and add the oil and the onions. Cook over a low to moderate heat until the onions are soft and golden brown. 
Wash the spinach leaves and add to a large pan and place over a moderate heat and cook until they have wilted then remove from the pan and squeeze out any excess water and roughly chop them.
Add the spinach leaves to the cooked onions and crumble over the feta cheese.
Break the eggs into a bowl and beat them lightly adding black pepper and just a touch of salt. Add to the oven-proof pan, place on a low heat and leave for 5 minutes, until it is starting to set.
Transfer to the oven and bake for a further 2-3 minutes or so until the omelette is just set and slightly runny in the centre.
Leave to stand for 5 minutes and serve.
Nutritional information, per serving:

| Calories | Carbs | Protein | Fat | Saturates | Salt |
| --- | --- | --- | --- | --- | --- |
| 342 | 10.3g | 17.7g | 22.9g | 11.4g | 2.4g |
Click on the stars to rate this recipe: