Fried egg naan with masala beans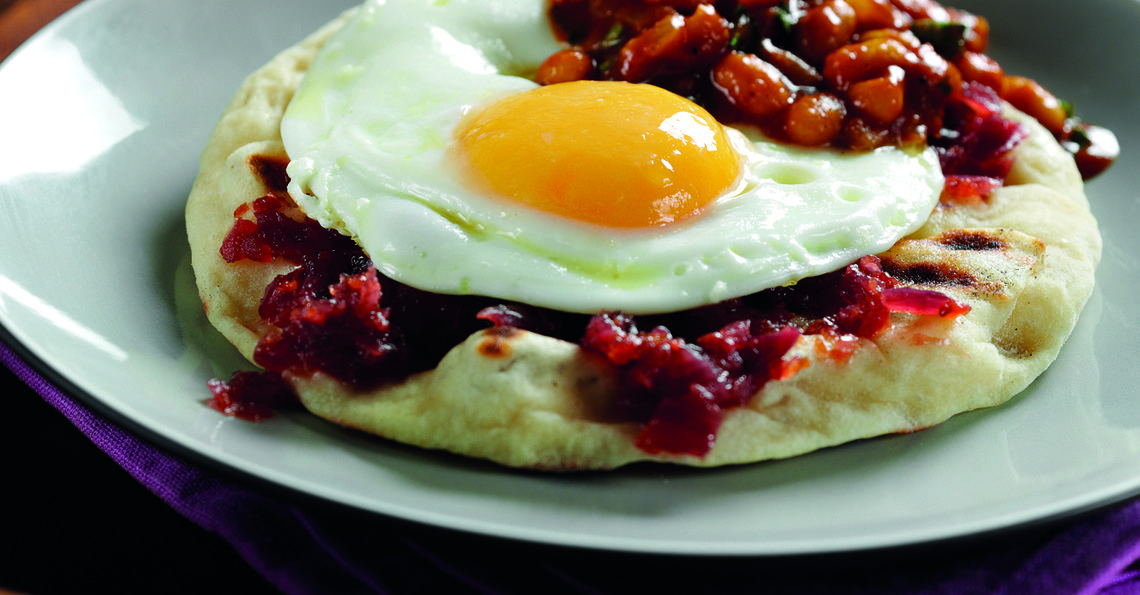 Serves: 4
Prep: 5 mins
Cook: 15 mins
Ingredients
3 tbsp sunflower oil
1 onion, sliced
1 tsp garlic, crushed
1 tsp root ginger, finely grated
2 tsp garam masala
200g carton passata
4 tbsp tomato chutney (see recipe)
400g can baked beans, drained reserving sauce
1 tbsp chopped coriander
4 large British Lion eggs
25g butter
4 mini naan breads, warmed (see recipe)
For the naan…
1 tsp fast-action yeast
1/2 tsp sugar
150g strong white bread flour, plus extra to dust
1/2 tsp salt
3 tbsp natural yoghurt
1 tbsp melted butter
For the chutney…
1 red onion, finely chopped
2 medium tomatoes, diced
3 tbsp red wine vinegar
60g light brown sugar
1 tbsp HP sauce
Method
For the beans, heat 1 tbsp oil in a frying pan, add onion and fry for five minutes until golden brown.
Add the spices and cook until aromatic. Add the passata, the beans and 3 tbsp reserved bean juice and cook for five minutes until thick. Season to taste and finish with coriander.
Heat remaining oil in a large frying pan, fry the eggs until the whites have almost set. Add butter and baste the yolks to evenly cook.
Spread the chutney onto the naans, top with the eggs and serve alongside the beans.
For the naan, mix the yeast and sugar with 75ml warm water and leave for five minutes until frothy. Mix flour and salt in a large bowl. Add yogurt and yeast mixture and bring together with a knife. Place on a floured surface and knead for five minutes until it forms a soft dough. Cover and leave in a warm place until doubled in size. Knock back and divide into four balls.
Heat a griddle or cast iron pan and roll out the dough into rough circles about 12cm in diameter. Dry cook for about two minutes on each side until puffed up and slightly blackened. Brush with melted butter and flaked salt.
For the chutney, cook all ingredients in a saucepan over a medium heat for about 20 minutes until thick.
Nutritional information, per serving:

| Calories | Carbs | Protein | Fat | Saturates | Salt |
| --- | --- | --- | --- | --- | --- |
| 489 | 52.2g | 21.0g | 23.3g | 7.7g | 2.4g |
Click on the stars to rate this recipe: