Pumpkin loaf topped with eggs and avocado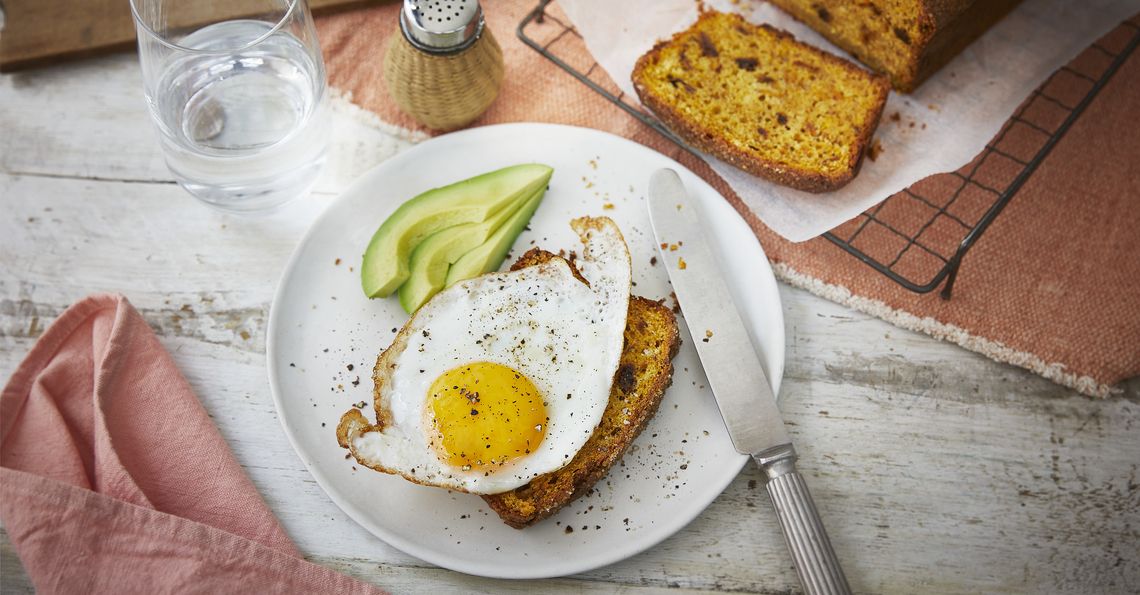 Prep: 10 mins
Cook: 45 mins
This spiced pumpkin loaf is a cracking autumnal breakfast option. Toast the slices and serve with sliced avocado and a fried egg for a special brunch treat!
Makes 12 slices.
Ingredients
3 medium British Lion eggs, beaten
400g leftover, cooked diced pumpkin
3/4 tsp ground ginger
3/4 tsp ground cardamom
1 tsp ground cinnamon
1 tbsp honey
100ml vegetable oil
60ml whole milk
150g caster sugar
225g self-raising flour
1 tsp baking powder
1 tbsp demerara sugar
To top: One fried British Lion egg (per serving)
Avocado, sliced
Method
Preheat the oven to 180C/160C Fan/Gas Mark 4. Line a 18.5cm x 8.5cm (base measurements) loaf tin with baking parchment. 
Using a fork or potato masher, mash the pumpkin along with the ginger, cardamom, cinnamon, and honey until smooth.
Combine the vegetable oil, milk, eggs, and sugar in a large mixing bowl. Add the flour and baking powder and mix until just combined. Finally, add the puree and mix again, until just combined. Be careful not to over-mix.
Pour the mixture into the prepared loaf tin and sprinkle over the demerara sugar. Bake for 40-45 minutes, until golden and risen. Cover the loaf loosely with tin foil for the final 10 minutes of baking time, to prevent it from over-browning.
Remove the loaf from the oven and leave to cool in the tin for 15 minutes. Transfer to a wire rack and leave to cool completely, before slicing.
Whilst the loaf cools, heat a frying pan over a medium-high heat and add a splash of vegetable oil. Crack in your desired quantity of eggs and fry Toast the slices and serve topped with sliced avocado and a fried egg for a special brunch treat!to your liking. 
Once ready, remove and top each slice of the pumpkin loaf with one fried egg.
Serve with freshly sliced avocado and enjoy!
Cooks tips
This pumpkin loaf keeps well for up to 4 days.
Click on the stars to rate this recipe: