The full Scandi - breakfast one-pot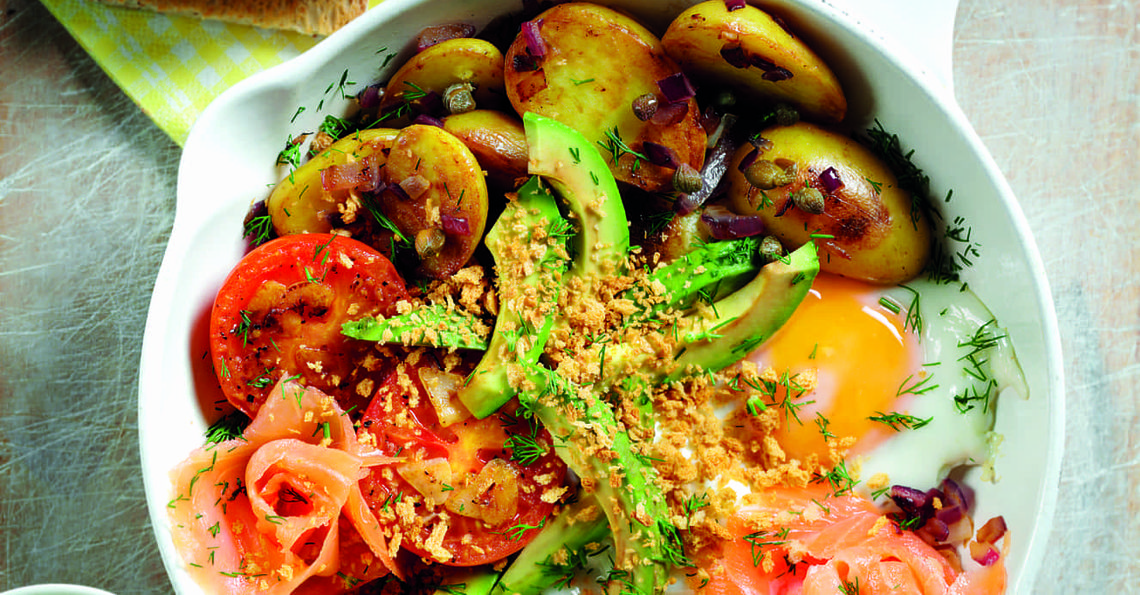 Serves: 2
Prep: 5 mins
Cook: 20 mins
Ingredients
½ red onion, diced
100g cooked new potatoes, halved
2 tbsp capers (optional)
1 vine tomato, halved
1 clove of garlic, sliced
25g butter
2 large British Lion eggs
100g smoked salmon
1 small avocado, sliced
25g toasted breadcrumbs
2 tbsp dill, chopped
Sour cream, lemon and sourdough toast to serve (optional)
Method
In a large frying pan fry the onion in butter for three minutes. Add the potatoes and cook for six minutes until they are crisp and golden. Fold in the capers and then push the contents of the pan to one side.
Cut the tomatoes in half, season well, brush with oil and then add a few slices of garlic. Cook the tomatoes, in the same pan, face down for six minutes and then push them to one side.
In the same pan, fry the eggs for about four minutes until they are cooked but the yolk is still runny, then remove the pan from the heat.
Finally make two rosettes from the salmon and add them to a space in the pan with the sliced avocado, breadcrumbs and chopped dill.
Serve with sour cream, sourdough toast and a squeeze of lemon.
Nutritional information, per serving:

| Calories | Carbs | Protein | Fat | Saturates | Salt |
| --- | --- | --- | --- | --- | --- |
| 486 | 24.6g | 24.8g | 32.7g | 11.5g | 3.5g |
Click on the stars to rate this recipe: