Garlic mushroom and brie pancakes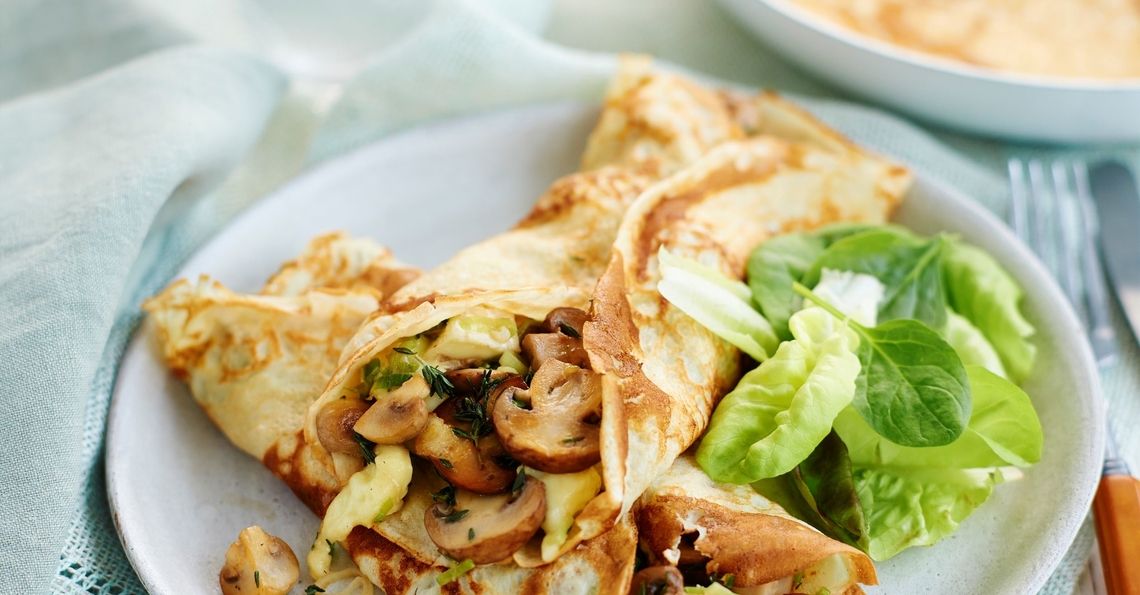 Serves: 4
Prep: 12 mins
Cook: 20 mins
Ingredients
For the pancakes...
125g plain flour
2 medium British Lion eggs
375ml milk
1 tbsp sunflower oil
For the filling...
25g butter
500g mixed mushrooms, halved or sliced
4 spring onions, finely sliced
3 cloves garlic, thinly sliced
2 tsp thyme leaves
4 tbsp white wine (or water)
150g brie, cut into small chunks
Salad leaves, to serve
Method
For the pancakes: sift the flour into a large mixing bowl. Make a well in the middle of the flour and add eggs with half the milk. Whisk until the mixture is lump free. Add the remaining milk and oil and whisk again until smooth. Pour the batter into a jug. Leave to stand for 10 minutes.
Heat a medium (20cm) frying pan over a medium heat and brush with oil. Pour in about 5 tbsps of pancake batter and swirl to coat the base. Cook for about a minute until deep golden, flip or turn and cook for a further 30 seconds. Repeat with remaining mixture to make 8 pancakes in total.
For the filling, melt butter in a large frying pan or wok, add mushrooms and cook over a medium-high heat for 5-6 minutes until golden.
Add onions, garlic and thyme and cook for a further 3 minutes. Pour in the wine or water and simmer for a minute before removing from the heat and stirring through the brie.
Spoon the mixture into the pancakes and serve with salad leaves.
Click on the stars to rate this recipe: