Huevos rancheros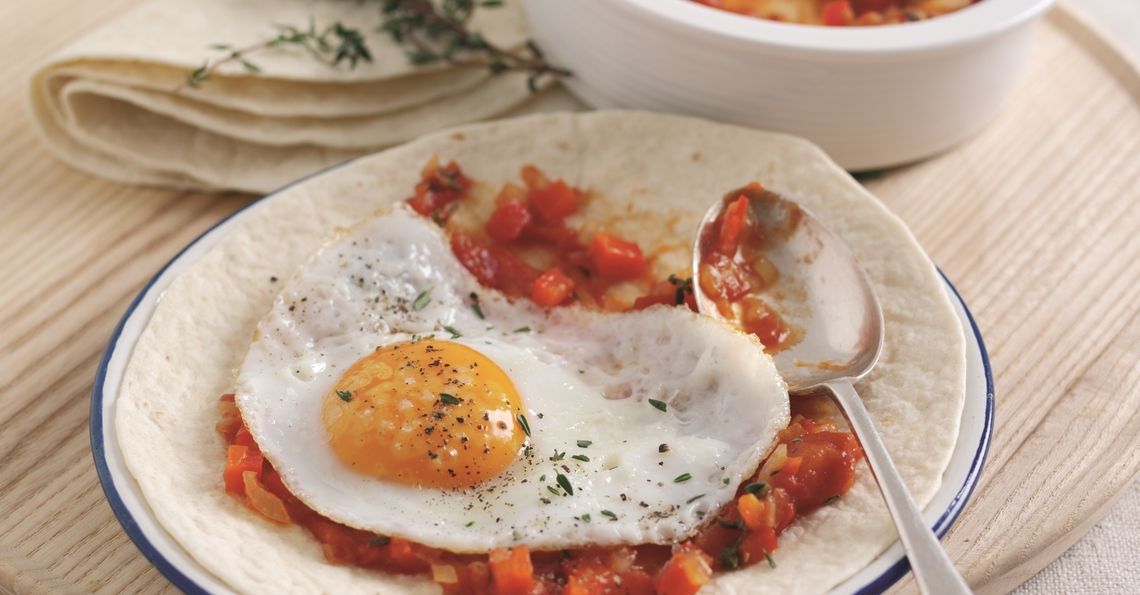 Serves: 4
Prep: 0 mins
Cook: 20 mins
Ingredients
1–2 tbsp olive oil
1 onion, peeled and finely chopped
1 red pepper, deseeded and chopped
1 garlic clove, peeled and finely chopped
Dried chilli flakes, generous pinch
Small bunch thyme leaves plucked
400g chopped tomatoes
Salt and freshly ground black pepper
2 tbsp sunflower oil
4 British Lion eggs
4 tortillas, warmed according to packet instructions
Method
Heat the olive oil in a non-stick frying pan and add the onion, pepper and garlic. Cook for about 5 minutes or until the onions are softened but not coloured. Then add the chilli flakes, most of the thyme leaves and tomatoes together with 100ml (3½ fl oz) of water. Mix well and cook for 5–7 minutes or until thickened and reduced. Season with salt.
Heat the sunflower oil in a large non-stick frying pan. Crack the eggs into the pan and fry until the whites are set but the yolks are still runny. Season with salt and pepper.
Pop the warm tortillas onto serving plates, add a generous spoonful of cooked tomato sauce, top with a fried egg, garnish with the remaining thyme leaves and black pepper and serve.
Click on the stars to rate this recipe: