Low calorie cherry tomato and parmesan frittata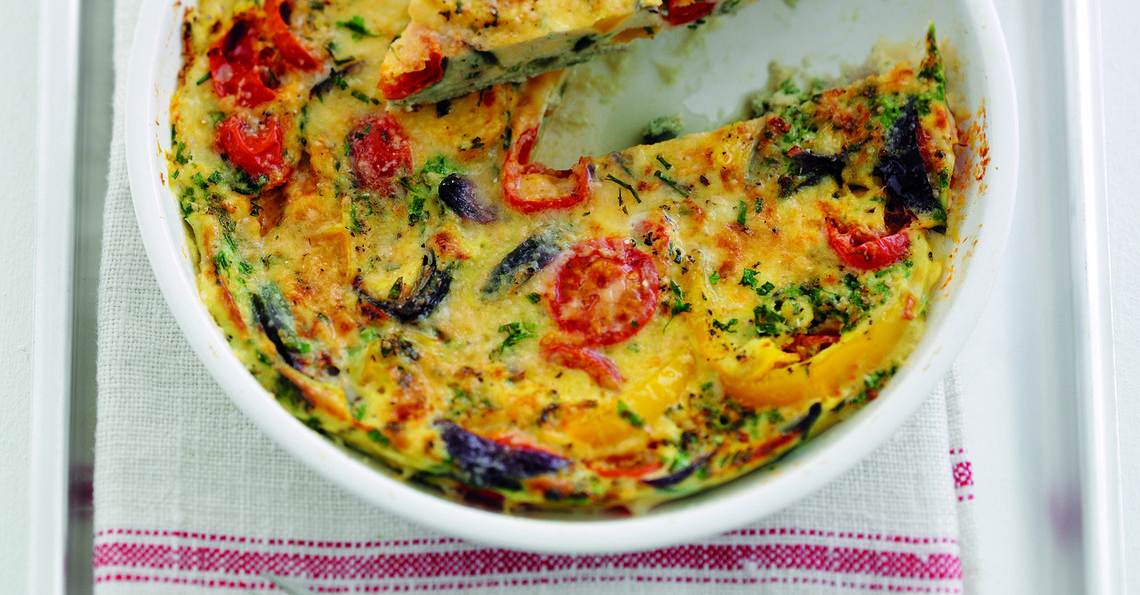 Serves: 2
Prep: 10 mins
Cook: 10 mins
This two-egg dish is rich in protein so helps repair and build muscle after intense exercise. It also includes fresh tomatoes and yellow peppers, which provide high levels of the antioxidants, vitamin C, beta-carotene, needed for muscle recovery. It contains relatively & low levels of saturated fats and high levels of heart-healthy unsaturated fats, which promote oxygen delivery during exercise.
Ingredients
2 tsp/ 10ml olive oil
1 red onion, sliced
1 garlic clove, crushed
1 yellow pepper, sliced
125g/ 4oz cherry tomatoes, halved
4 large British Lion eggs
1 tablespoon / 15ml fresh herbs, e.g. parsley, chives or thyme (or 1 teaspoon/ 5ml dried herbs)
Salt and freshly ground black pepper
25g/1oz grated Parmesan
Method
Place the oil, onion, garlic, peppers, tomatoes in a micro-proof dish. Cover with an upturned plate and cook on HIGH for 3 mins.
Beat the eggs with 30ml/2tbsp water, the herbs and seasoning.
Stir the vegetables, then add the eggs, cover with an upturned micro-proof plate and cook on HIGH for 1 min 30 secs.
Stir well, pushing the cooked egg into the middle of the dish, shake to level.
Cover with the plate and cook on HIGH for a further 2 mins.
Leave to stand for 3 mins.
Scatter over the Parmesan shavings.
Serve in wedges, hot or cold, with a simple rocket salad and crusty bread.
Cooks tip: Sprinkle the parmesan cheese over the frittata and pop under a hot grill for a few minutes until the top is golden.
Nutritional information, per serving:

| Calories | Carbs | Sugars | Protein | Fat | Saturates | Salt |
| --- | --- | --- | --- | --- | --- | --- |
| 285 | 12.0g | 10.0g | 22.0g | 18.2g | 5.2g | 0.7g |
Click on the stars to rate this recipe: