Raspberry cheesecake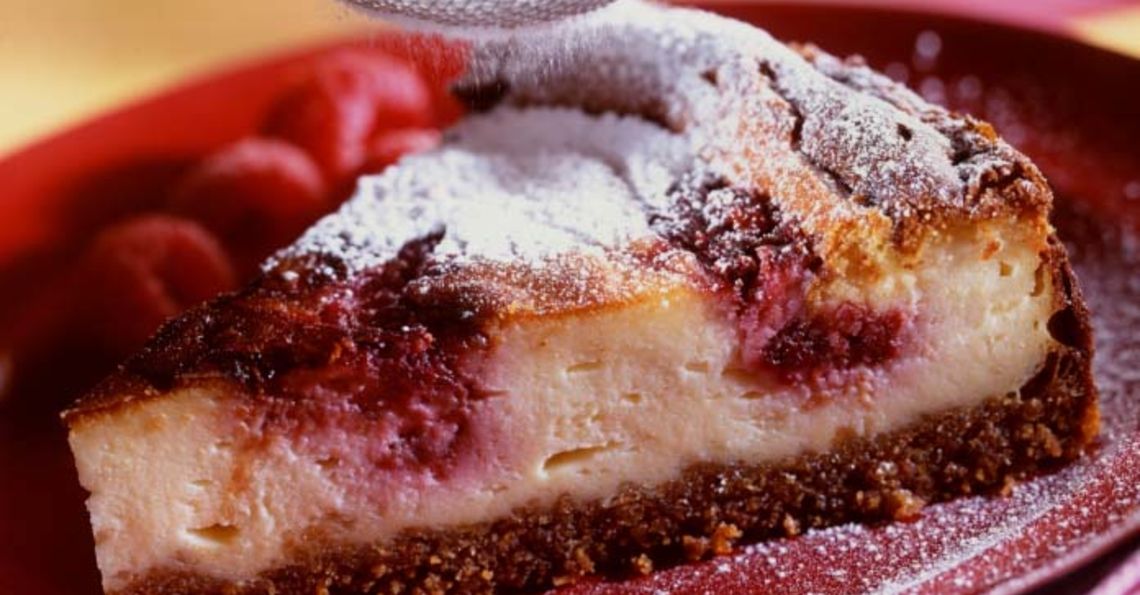 Serves: 8
Prep: 15 mins
Cook: 60 mins
Impress your guests with this delicious cheesecake recipe.
Ingredients
For the base:
50g (1 3/4oz) amaretti biscuits, crushed
100g (3 1/2 oz) digestive biscuits, crushed
75g (2 3/4 oz) butter, melted
For the filling:
175g (6oz) raspberries, thawed if frozen 2 tablespoons icing sugar
2 x 200g carton full-fat soft cheese
200g tub creme fraiche
2 large British Lion eggs
zest and juice of 1 small lemon
75g (2 3/4oz) caster sugar
1 tablespoon cornflour
icing sugar, to dust
Method
Preheat the oven to Gas Mark 6/200C/400F.
Grease the base and sides of a 20cm (8-inch) spring-base cake tin and line with baking parchment.
To make the base, mix the biscuits with the butter and spread over the base of the tin. Chill.
To make the filling, blend the raspberries in a food processor with the icing sugar and set aside.
Rinse out the food processor. Put the remaining ingredients in the food processor and blend until smooth. Pour the mixture over the base, and then spoon over the raspberry purée. Use a skewer to swirl through the mixture to create a marbled effect. Bake for 20 minutes and then reduce the temperature to Gas Mark 4/180C/350F and bake for a further 40 minutes. Cover the top loosely with foil if it begins to brown too much
Leave to cool in the tin. Remove the sides from the tin and peel off the lining paper. Place the cheesecake on a serving plate. Serve chilled and dusted with icing sugar.
Click on the stars to rate this recipe: